Premier League: Brad Guzan hails Aston Villa's improvement
Brad Guzan believes Aston Villa will be stronger following a tough season and has paid tribute to their character.
Last Updated: 30/06/13 5:55pm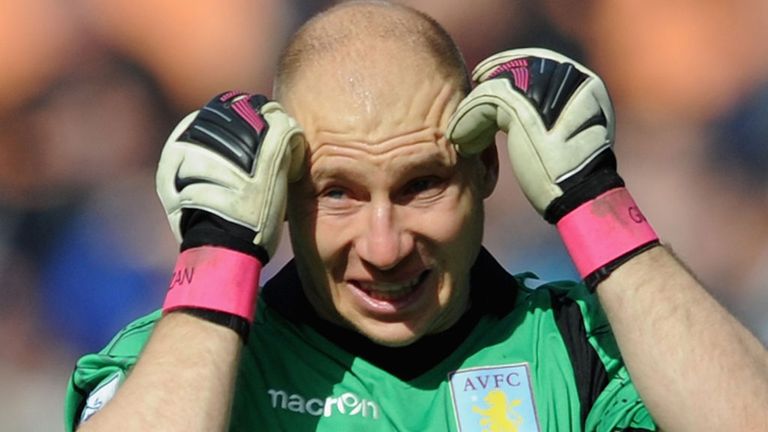 Villa had to battle for their Premier League survival last term and at times it looked like they might lose the fight and suffer relegation, but they enjoyed a fine finish to steer clear of the drop.
Manager Paul Lambert kept faith with a youthful squad and Guzan was impressed by the way everyone at the club came through such a difficult campaign.
"We had a tough spell but that was what made us stronger and helped to bring out our character," he told the Birmingham Mail.
"When you go through those tough times you are able to help each other, pick each other up and dust each other down. You keep fighting.
"If you make mistakes it's how you respond to the criticism that comes your way, you have to be man enough and move on.
"I think as a group and as a team we did a really good job of that and that will help us now in the future.
"We will all learn from what we did wrong during that tough spell and make sure it doesn't happen again."
Guzan appreciates that it was particularly hard for Vila's young defenders to deal with the rigours of the Premier League but believes they deserve a lot of credit.
He said: "For them to learn as they went along - some new guys, some younger faces that have learnt on the job - was a tough ask. But they just got on with it, and that's a test of their mental strength and focus.
"As a group we have definitely got stronger, physically and mentally."
Guzan has now challenged Villa to push on from last season and start the new season strongly, having struggled to get going 12 months ago.
"There were a few nerves at the start (of last season), which is normal," he said. "For us now it will be about continuing to build on what we started.
"The youthfulness, in terms of the energy, the buzz, and the excitement that goes around in the dressing room is great. "That is what creates the energy to go out and perform well."