Gabriel Agbonlahor labelled 'unplayable' after Aston Villa won 3-1 at Arsenal
Paul Lambert called Gabriel Agbonlahor 'unplayable' after Aston Villa opened the season with a 3-1 win at Arsenal.
Last Updated: 18/08/13 8:37am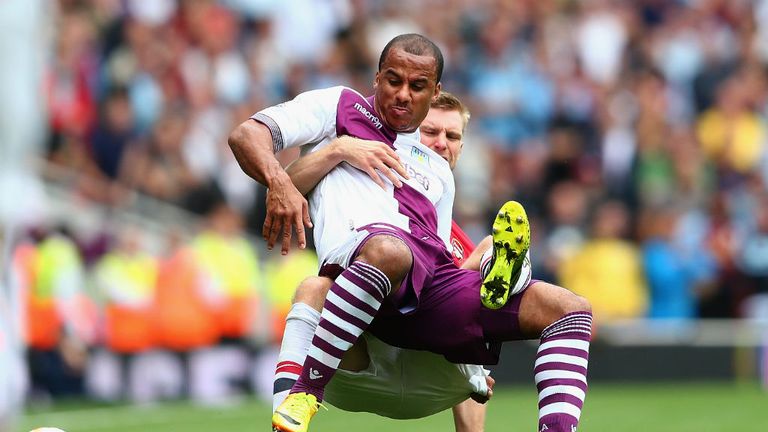 Christian Benteke's double and Antonio Luna's late goal earned Villa a surprise victory at Emirates Stadium after Olivier Giroud had given Arsenal an early lead.
However, it was the performance of Agbonlahor which caused Arsenal problems as he was twice brought down for penalties, firstly by Wojciech Szczesny, and then Laurent Koscielny, who was later sent off.
"I thought we were magnificent after that first initial 15-minute period when we conceded a poor goal," Lambert told Sky Sports.
"After that, I thought we were outstanding and our counter-attack play was fantastic.
"Agbonlahor gave as good a solo performance as I've seen for many, many years. He was unplayable.
"If he keeps that up, and on the last four months of the season, he could definitely get himself back in the England reckoning."
Arsenal felt Koscielny had won the ball in the challenge that led to the second penalty which Benteke converted to put Villa in front, but Lambert was adamant the referee had made the right decision.
The Villa boss added: "The ball never deviated, and I think it was a stone-wall penalty. If the lad had won the ball, it would go to the side.
"I think that's the correct decision. There was no deviation of the ball and I'm pretty sure if it was up the other end it would have gone against us."