Aston Villa boss Paul Lambert unhappy with referee after Chelsea loss
Paul Lambert felt referee Kevin Friend made two crucial mistakes in Aston Villa's 2-1 defeat by Chelsea.
Last Updated: 22/08/13 7:11am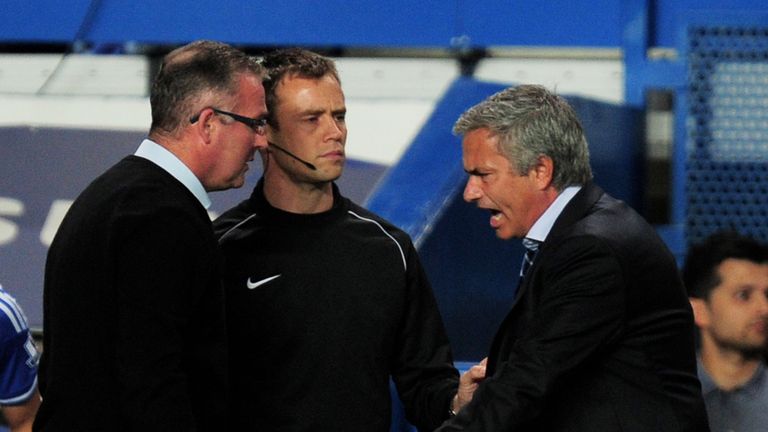 Villa battled hard against the Blues as Christian Benteke cancelled out an early Antonio Luna own goal, but Branislav Ivanovic's second-half header sealed victory for Jose Mourinho's side.
Lambert felt aggrieved after Ivanovic avoided a red card for catching Benteke with a flailing arm before scoring the winner, while a late penalty appeal for handball by John Terry was waved away.
"I think it's there for everybody to see," he told Sky Sports.
"It's clearly an elbow on Christian, I think it's a sending-off and the referee is in the vicinity to do it, and the penalty I think is a penalty.
"He has missed two huge moments. I saw it at the time. How you can miss that magnitude of decision is beyond me."
Lambert added: "It's easy to sit here with sour grapes and all that sort of thing, (but) I thought my team were outstanding.
"I don't think we deserved to lose the game. I think we've been done by two big decisions that were wrong.
Mourinho, whose side were comfortable victors over Hull on Sunday and next play Manchester United, admitted Chelsea were fortunate to escape with all three points in a combative contest and also praised Lambert.
"They fought a lot to get a result," he said.
"I don't think they play a lot, because they don't play a lot. Every ball the goalkeeper has, the goalkeeper kicks."
Mourinho insisted that the second-half tussle between Ivanovic and Benteke, which happened yards in front of the two dug-outs and sparked angry scenes on the touchline, was nothing more than a "football fight".
"He (Lambert) reminds me of myself 10 years ago, where I was complaining (about) every decision, where I want to coach my team and at the same time I want to have a whistle in my lips.
"He's the same. With time he will learn, because he complains with every, every, every decision. But he's a young manager, very intelligent," he added.
Lambert accepted Mourinho's appraisal of him with good grace, saying: "It's a nice compliment.
"Jose doesn't stand there as a shrinking violet. If in six years' time I'm like him, then I'll be quite happy."