Premier League: Two fans are arrested after a linesman was struck by a flare at Villa Park
Police have arrested two men after a linesman was struck by a flare during Tottenham's 2-0 win at Aston Villa.
Last Updated: 21/10/13 11:49am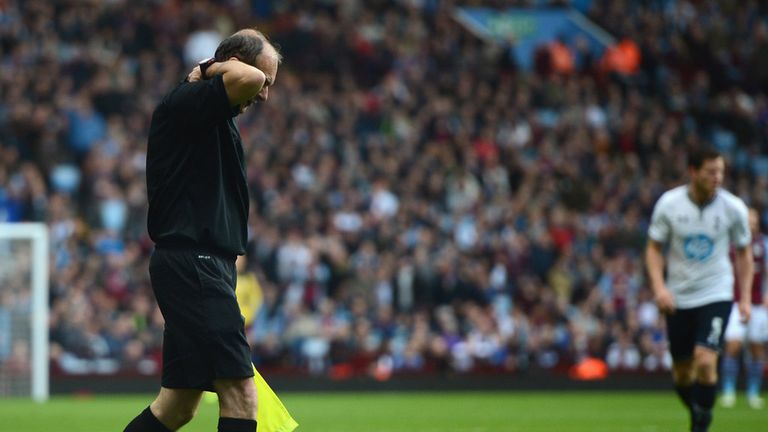 David Bryan was able to continue after the incident, which came as Spurs players celebrated the opening goal of the game, scored by Andros Townsend in the 31st minute at Villa Park.
The flare was thrown from a section of Spurs fans located in the Doug Ellis Stand but Bryan continued to officiate after a slight delay to proceedings.
"Police have arrested two men after a lit flare was thrown on the pitch during the Villa v Spurs game - the flare hit a linesman" said a statement released via Twitter.
"The two men aged 25 and 47 were arrested following the incident at Villa Park, fortunately the linesman wasn't injured."
The FA has launched an investigation into the matter and spoke about its concern over the incident.
"The FA will investigate this matter, which is unacceptable," they said in a statement.
"We will await the match officials' report and will be speaking to the clubs.
"Such incidents highlight the dangers of pyrotechnics being used in a football stadium."
Tottenham manager Andre Villas-Boas was also quick to condemn the action.
"Obviously it is not great to see. It should be avoided completely. I think it touched the linesman," he said.
"I think situations like this do not have a place in football. I sincerely hope it does not happen again."