Football fans warned not to smuggle flares into matches after Villa Park incident
Football fans have been warned that releasing flares at matches could end in tragedy
Last Updated: 21/10/13 5:24pm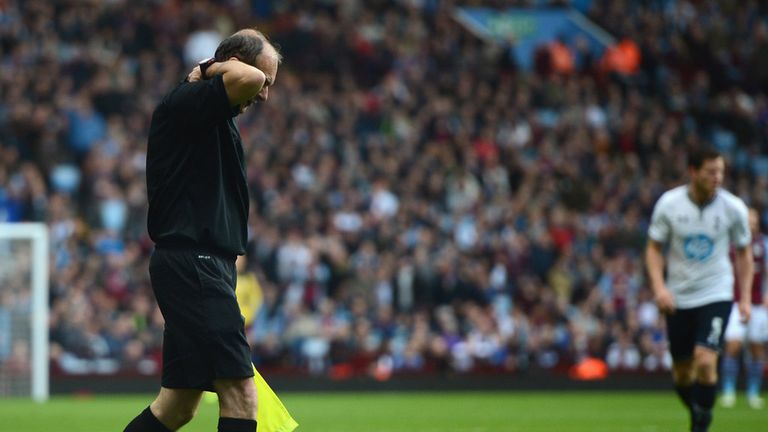 Two fans have been released on police bail after a flare was thrown from the crowd during the first half of Tottenham's 2-0 win at Villa Park on Sunday.
Assistant referee David Bryan was struck on the back of the neck by the flare, which appeared to be thrown from a section of Spurs fans in the Doug Ellis Stand, and two men, aged 25 and 47, will not be allowed to attend football matches during the bail period, which ends on 28 November.
It is the latest of several incidents involving flares being thrown in recent weeks - several were thrown at last week's World Cup qualifier between England and Poland at Wembley and Damian Green MP has pleaded with fans to avoid smuggling them into grounds.
"Flares are in danger of becoming the latest fashion," he told Sky Sports News. "They are a seriously bad idea. They don't add atmosphere, they just add danger.
"Earlier this year, a 14-year-old boy was killed at a match in Bolivia by a flare. They are very hot, very dangerous, they are out of control.
"It would be a very good idea if fans all over the country decided not to try to smuggle flares into grounds. Somebody could get killed."
The Football Association has launched an investigation into the matter and are awaiting the match officials' report into the incident and FA secretary Alex Horne acknowledged the need for action.
"We don't like to see it, but they are very small, they are very portable," he said. "We do our best - it's something we're seeing in a lot of football grounds at the moment."
Trevor Brooking also feels the problem is difficult to police - but insists the authorities will take the appropriate action.
"How you deal with it here is very difficult", the FA Director of Football Development told Sky Sports News.
"I'm sure there are one or two fans who think it's a good idea but it's dangerous as we saw with the official who got struck at the weekend.
"Hopefully our officials will discuss it with the clubs - it's not easy to pick them up coming through the turnstiles but I'm sure if it becomes a problem, we'll be much stronger in dealing with it."