Premier League: Paul Lambert hails Aston Villa's 'huge progress' ahead of West Ham trip
Paul Lambert insists Aston Villa have made "huge progress", despite an underwhelming start to the current campaign.
Last Updated: 04/11/13 8:02pm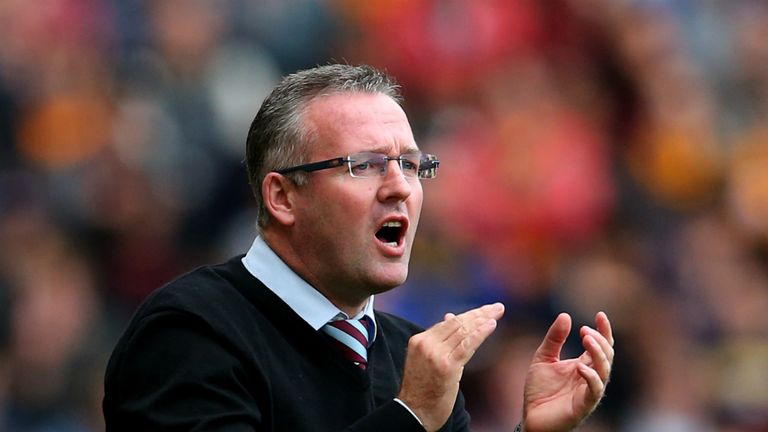 Villa lie 13th in the Premier League with 10 points after a difficult opening to the campaign which has seen them take on five of the 'big six' sides.
Supporters have been concerned by home form and a lack of goals, despite impressive victories over Arsenal and Manchester City, but after a transitional season that saw his side flirt dangerously with relegation, Lambert sees ample cause for optimism.
"We're trying to build something here," he said ahead of this weekend's trip to West Ham.
"With the right overall philosophy, with an unwavering work ethic and with a bit of luck along the way, we can get something going here again, no question.
"We have faced five of the top sides already this season. That's some formidable start. We've got a good return from these games, too, and we've actually come away from matches in which we've been beaten feeling genuinely aggrieved.
"There has been progress, absolutely. It's been huge. Look at the comparison between our games against Everton. They came to our place last year and turned us over heavily. We should have done the same to them this time (a 2-0 defeat last weekend).
"We had great chances certainly to win the game. But, despite the result, it's
obvious that the progress has been huge.
"I'm pleased with the team and I'm pleased with the effort the players are putting in and what they're doing in games.
"We're only a year-and-a-bit into building this team but our fundamental principles are already clear. We try to win games, we play with hunger and desire and we play with pride. As a team, we keep learning and progressing.
"I enjoy what I do, I enjoy the job. It's great. We've got a good set of lads,
a great club and a great fanbase behind us."