Ex-Aston Villa, West Ham and Everton star Thomas Hitzlsperger reveals he is gay
Former Aston Villa, West Ham and Everton midfielder Thomas Hitzlsperger has revealed he is gay.
Last Updated: 09/01/14 12:28pm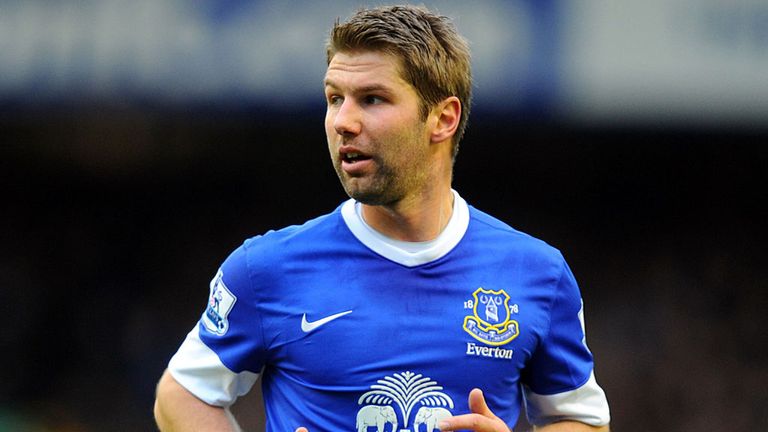 Hitzlsperger is the highest-profile footballer to 'come out' and follows American Robbie Rogers, who revealed his sexuality last year.
Hitzlsperger won 52 caps for Germany and finished his career at Stuttgart last year, retiring because of injury.
In an interview with Germany's Die Zeit newspaper, he said: "It has been a long and difficult process... only in recent years has it dawned on me that I would prefer to live with another man."
Hitzlsperger, 31, says he does not know any other players in Germany who are gay.
"I'm coming out about my homosexuality because I want to move the discussion about homosexuality among professional sportspeople forwards," Hitzlsperger said.
"I've never been ashamed of the way I am," he added, although he conceded it has not always been easy to live with some of the comments dished out on the subject.
"Just picture 20 men sat around a table together drinking - you've just got to let the majority be, just as long as the jokes are halfway funny and the talk about homosexuality doesn't get too insulting.
"In England, Germany or Italy, homosexuality is not taken seriously as an issue, at least not in the dressing room."
Aston Villa, the German's first English club, said on social media: "Everyone who knows Thomas from his time here at Villa has great respect for him, not only as the fine player he was but also as a man.
"His statement today is a straightforward statement and, along with our support as a club, we hope that everyone involved in the game extend to him their support as well."
While the Professional Footballers' Association said: "It is great that Hitzlsperger has discussed his sexual orientation openly. The PFA hope to learn from his experiences as a player."
Several footballers have voiced their support on social media, among them Arsenal's Lukas Podolski, who played alongside Hitzlsperger for Germany.
"Brave and right decision," he wrote. "Respect, Thomas Hitzlsperger. His outing is a important sign in our time."
QPR midfielder Joey Barton tweeted: "Thomas Hitzlsperger has shown a lot of courage today.
"Sad times when people have to wait till they retire from their chosen profession before they feel other people will judge them solely on who the human being is. Shame on all of us as a society."
Former England Under-21 international Justin Fashanu was the first professional footballer in Britain to come out in 1990 before he took his own life eight years later, aged 37.
Tennis legend Martina Navratilova came out publicly as gay in 1981 while John Amaechi was the first NBA player to openly admit to being gay in 2007.
Ex-Wales rugby union captain Gareth Thomas, plus England and Surrey wicketkeeper Steven Davies, have come out in the last five years.
Olympic boxing gold medallist Nicola Adams topped the Independent's annual 'Pink List' poll of influential lesbian, gay, bisexual and transgender people in November 2012.
And last month Tom Daley revealed he was in a relationship with a man, while two other Olympic divers have previously come out.
Australian Matthew Mitcham announced he was gay in 2008 shortly before he won a gold medal at the Beijing Olympics, and four-time Olympic diving champion Greg Louganis revealed he was gay following his retirement in 1995.