Premier League: Paul Lambert urges Aston Villa fans to remain behind the team
Paul Lambert has urged Aston Villa's fans to help his side through a difficult spell as they prepare to face Arsenal.
Last Updated: 14/01/14 11:01am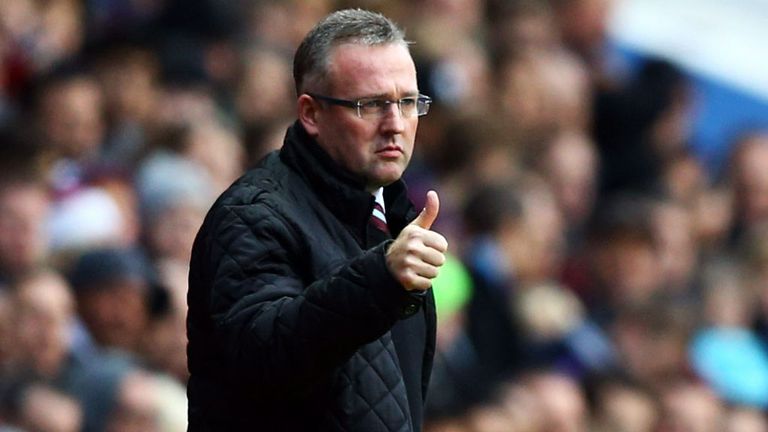 Villa crashed out of the FA Cup last weekend after a shock defeat to Sheffield United, the club's fifth loss in their last seven games.
Lambert understands the frustration of the fans following the dismal recent run, but believes their backing is crucial if Villa are to stop the rot against Arsenal in Monday Night Football.
"I don't have any problem with the crowd," said Lambert ahead of the Villa Park clash.
"If the team is not performing, then you expect people to vent their frustration - that is normal.
"But we are a young side.
"Last year, we played Newcastle at home and we were getting beaten 2-0 in the first half.
"Then we scored, and for about 40 minutes, it didn't matter what we did, that crowd was right with us. They were brilliant that time.
"Because you are in your second year, it might be a different view, but if they can stick with it and see us through the hard times when we need them... because we certainly need them.
"They have been excellent for us overall, and we expect if we are not performing that certain things will happen.
"But we're hoping (in the Arsenal game) that they will get right behind us."
Lambert has a good relationship with Villa chairman Randy Lerner, but always has a lingering fear about possibly losing his job.
He said: "I never stop worrying. I'm not immune from it.
"The relationship between me and Randy is what it is. You are never immune from anything, and I would never view it that way.
"You just keep going - there is no secret formula to it. You just keep going and don't lose focus on what you are trying to do. I will never waver from that."
Aston Villa v Arsenal is live on Monday Night Football, Sky Sports 1HD