Aston Villa star Christian Benteke says he is happy with his season so far
Christian Benteke insists he is happy with how his season is going and he believes more goals will soon be arriving.
Last Updated: 15/02/14 2:36pm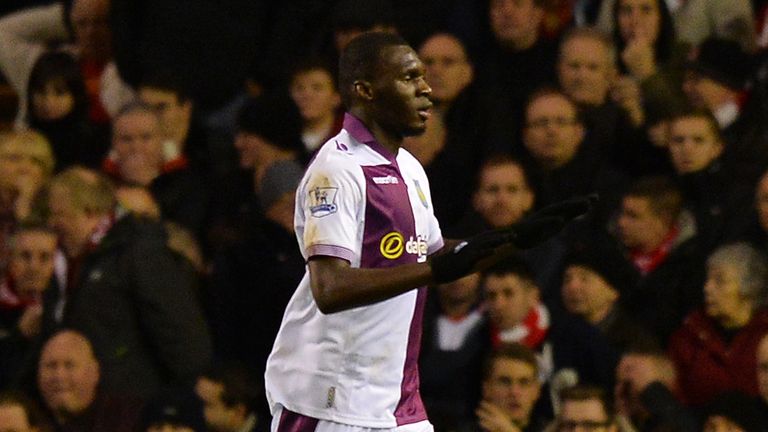 Benteke was one of the real stars of the Premier League last term, scoring 19 goals in what was his maiden campaign.
This year the 23-year-old has found goals harder to come by but he still has seven to his name.
"I never imagined I would have such a good season and I'm happy with what I did, although I knew there would be some tough times," Benteke told the Birmingham Mail.
"That happened this season when I was injured and when I didn't score for a long time. But now I'm feeling better, which is good both for me and for the team.
"I started this season well but my hip injury at Norwich was hard to take because it was the first one I'd had for a long time.
"I didn't know how to react and I tried to come back too quickly. But the manager told me to go back to Belgium, work on it and come back fit. Then I injured my knee, which obviously didn't help.
"But I'm fit now and playing well.
"I want to help the team to try and get three points in every game and if I can score a few more goals that would be great
"If I can help the guy next to me to score I'm happy.
''We're all looking for the same thing - three points."
Benteke has confirmed he is taking extra time to practice his penalties, after missing two this season.
"Sometimes players have to take responsibility and I felt confident enough to do it. I will always take a penalty," he said.
"Sometimes I might make a mistake, but the more I take the better I will get. It's the same in open play. If I miss a chance I don't think about giving the ball away to avoid missing again. I just think about putting things right.
"I want to say thanks to Brad Guzan because after each training session I practice taking penalties against him.
"When I took the one against West Brom I put the scenario in my head as if I was training and I tried to do the same.
"I had worked on that one with Guzan but I also practise other types of penalties. I'm not going to say what the next one will be like. We'll see when the moment arrives."