Premier League: Aston Villa boss Paul Lambert has no problem with Jose Mourinho
Aston Villa boss Paul Lambert insists there is no grudge between him and Chelsea counterpart Jose Mourinho.
Last Updated: 14/03/14 1:47pm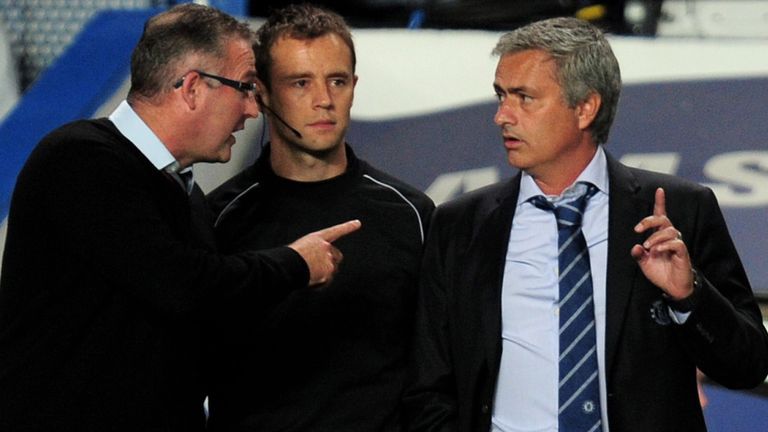 Lambert and Mourinho meet again on Saturday tea-time at Villa Park and the Scot was reminded of their previous clash at his pre-match press conference.
He was infuriated when Branislav Ivanovic escaped a red card for an alleged elbow on Christian Benteke, and it was the Serbia defender who went on score the winning goal, just to add to his anger.
Lambert was also furious when Villa were denied a penalty, which prompted angry scenes between him and Mourinho, but he laughed off the incident.
"Do you know what, there was nothing in that at all," Lambert said.
"We had a laugh and a joke about it afterwards. It was nothing serious. There was nothing in that, people made a lot of it in the way they portrayed it. We had a laugh and a joke as you normally do in football.
"Nobody is there to be Mr Nice but it never transferred into any heated thing. I saw him after the game and it was totally fine. I'm pretty sure it will be the same this time."
"I had a drink with Jose after the match. There was never any (issue). I think people tried to make something out of it that was never there."
Lambert said it was regular for tensions to run high on the touchline, and he said the much-publicised Alan Pardew head-butt affair should be seen as more of an extreme incident.
"I've never really been involved that much of anything major," he added.
"One or two, but everybody does. I think that (Pardew) was an extreme case. It's been well-documented and the situation has been dealt with. I think everybody has a little spat now and again."
Watch coverage of Aston Villa's Premier League clash with Chelsea on Saturday on Sky Sports 1 from 17:30.