Premier League: Paul Lambert calls Ramires' challenge on Karim El Ahmadi a 'shocker'
Paul Lambert described Ramires' challenge on Karim El Ahmadi as a 'leg-breaker' during Aston Villa's win over Chelsea.
Last Updated: 16/03/14 7:30am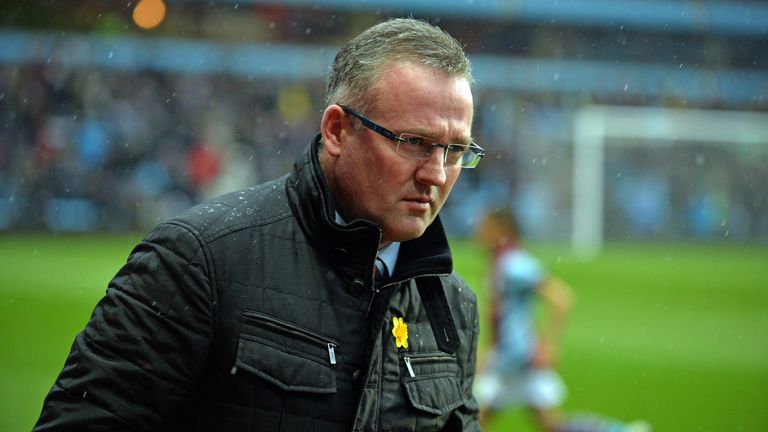 Villa moved into the top half of the Premier League table after Delph's brilliantly improvised goal on 82 minutes was enough to overcome the leaders.
Chelsea had already had Willian sent off for two bookable offences before Ramires was dismissed in stoppage-time following an awful tackle on El Ahmadi.
Lambert told Sky Sports: "I saw the Ramires one and that was a shocker.
"I've seen it and been involved in games where I've seen people going in like that and that was a leg-breaker. If anyone tells you different, I beg to differ.
"The first one is debatable, it was just a little tug, and if it was against my player, I would probably be argumentative about it, but the second one is an absolute no-brainer."
In addition to praising the quality of Delph's winner, Lambert was also delighted with the performance from his Villa side.
He added: "I thought the goal was world class. I thought we had energy tonight, which we had to do because if you don't get right in among Chelsea they can really hurt you.
"I've been here nearly two seasons and we've had some big moments in big games, but that's the best one we've had. It was a fantastic all-round team performance, let alone anything else.
"I thought we were well worth it, I really did. We were up against a team that not long ago won the Champions League, is vying to win the Premier League this year and is vying to win the Champions League again.
"It was an extraordinary effort. I didn't think we were inferior and I thought we were well worthy of winning it."