Paul Lambert is hoping Aston Villa can win at home for third time in row
Paul Lambert is hoping his Aston Villa team can clinch three home wins in a row for the first time in seven years.
Last Updated: 29/03/14 3:17pm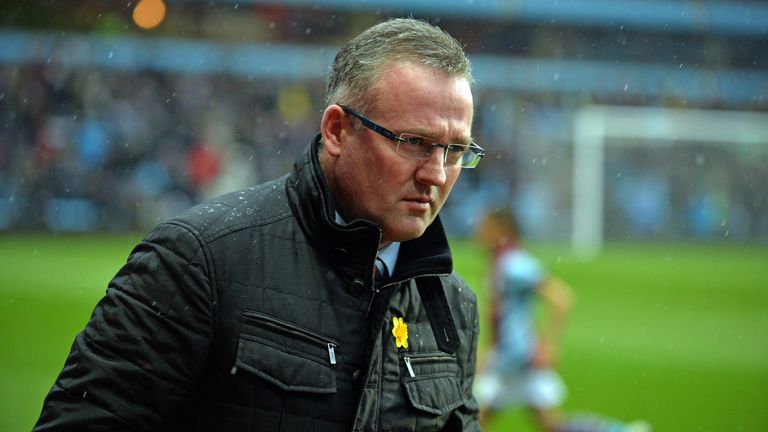 After back-to-back home victories over Norwich and Chelsea, Villa are aiming for a hat-trick of wins in front of their own fans in the Premier League when Stoke are the visitors.
Not since 2007 have Villa accomplished such a feat, much to Lambert's astonishment, but now his players have the chance to end such an abysmal run.
"It's taken seven years of trying (to win three home league games in a row)," said Lambert.
"When you think of the players this club has had, and they've had great teams here, been in the top six, been in Europe not that long ago, it's been a long, long time.
"Seven years - the fact they've still not done it is incredible. It is a long time for this club not to have done that.
"We're not talking about three or four months, we're talking years, and that's too long for that to happen for a club of this size."
Villa's shock victory over league leaders Chelsea has raised belief, with Lambert adding: "I guarantee everybody, to a man, thought Chelsea would win.
"I don't think anybody would have thought we would have a chance of winning three successive home league games.
"Now we've an opportunity to do it and get rid of that seven-year thing."
The wins have elevated Villa up to 10th, nine points clear of the relegation zone and on the cusp of safety after three successive seasons of battling against relegation.
Whilst Lambert believes fewer than the usual 40 points will be needed this year to clinch another season in the top flight, he does not want to take anything for granted.
"I think it (the points tally for safety) will be lower than people think it's going to be, because of the way the table is and the way things have gone," said Lambert.
"I'm not sure what will be needed, but it's better to be safe than sorry and simply try to win as many games as you can."
Watch Aston Villa v Stoke on Sky Sports 1 HD on Sunday afternoon from 3.30pm