Aston Villa manager Paul Lambert refuses to discuss Ian Culverhouse and Gary Karsa
Aston Villa boss Paul Lambert has kept silent on the situation surrounding suspended duo Ian Culverhouse and Gary Karsa.
Last Updated: 17/04/14 7:16pm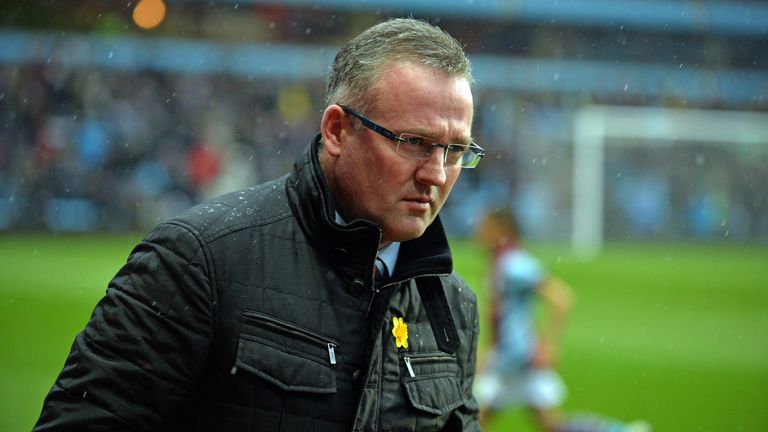 Assistant manager Culverhouse and head of football operations Karsa were relieved of their duties on Tuesday.
Lambert was probed on the matter during his afternoon press conference on Thursday but batted away the questions from reporters.
"You'll need to appreciate that due to it being a legal investigation I can't really comment on anything so I hope you appreciate that answer," Lambert said.
When asked if the incident had come as a shock to him, Lambert replied: "I think that's fair enough. I have given you a comment there, as I said, that I hope you respect.
"I respect that you have asked the question but I think you have got to respect my answer and I think that if you want to talk about the football side of things and results I am happy to answer it but I think you've got to respect my answer to that.
"You're going down a road where I'm not going to give you any answer. I think you and everybody else have to respect that the statement I have given you there is the end of.
"If you want to ask me about the game and everything that is going on with the game or results, I'll happily answer them."
In the duo's absence, Lambert is being assisted by goalkeeper Shay Given, and U21 manager and former player Gordon Cowans, who won both the league and European Cup with Villa as a player.
"Everybody knows that Gordon is an absolute club legend," Lambert said. "He's won the highest honour in the game. I've got a good relationship with Gordon and I always try and go and watch as many kids' games that I can.
"Gordon's been great to come up and help and Shay has been the same. Shay has always been training with the first team other than when he went to Middlesbrough on loan.
"I've always been good with Shay. He's always been about the block. He's been in massive games before. He knows the way the game runs and he's come up and given me a hand as well.
"I made the decision really quickly. They've come up and certainly helped."