Aston Villa boss Paul Lambert focused on getting much-needed win
Paul Lambert is aiming to put Aston Villa's off-field issues to one side and focus on matters on the pitch this weekend.
Last Updated: 18/04/14 3:57pm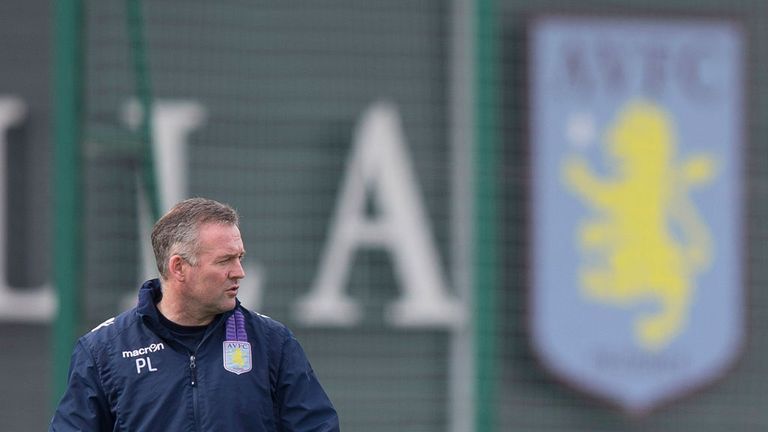 Villa go into this Saturday's home fixture with Southampton just four points above the relegation zone following a run of four straight defeats.
However, this has been overshadowed this week by the suspension of Lambert's assistant manager Ian Culverhouse and head of football operations Gary Karsa pending an internal investigation.
That no official reason has been given has only fuelled speculation, which has included suggestions the manager's position is under threat.
However, the Scot is focusing all his attention on Saturday's game at Villa Park and his attempt to guide his side to Premier League safety.
"Forget about the rest of it, my main focus is to prepare for the game, to go and get the lads ready as best as we can," said Lambert.
"We'll try and get the supporters behind us, get everyone positive and try to win a game. That's my job to try and do.
"(One more win) and we'll be in touching distance (of safety). We always say to the lads to be positive no matter what, we don't talk about being negative.
"But the lads know the situation, they don't need me to tell them. They know it themselves and we'll be ready for this one."
A month ago, Villa appeared to have headed off the threat of relegation with a 1-0 win over title-challengers Chelsea, but no points from the last 12 available has dragged them back into it.
"After the Chelsea game everybody thought 'great, no problem', nobody foresaw the last four games," continued Lambert.
"After Chelsea we were sitting with feet up and all of a sudden, four games later, you've got a bit more to do to get over the line.
"It (complacency) never came from ourselves, as a group or as a team. Outside people, pundits and all that, thought Aston Villa were totally safe but I've never given that implication. We know that now is the time to win a game."
This weekend, in the absence of Culverhouse and Karsa, Lambert will be assisted by Gordon Cowans and goalkeeper Shay Given, who has spent time away from the club on loan at Middlesbrough this season.
"I've always got on well with Shay, always," added Lambert. "One thing I don't think anyone could label Shay is not being professional. He's a fantastic pro, no two ways about it.
"This will be new for him, seeing the game from the other side, but he's good
with the players around him. It wasn't a hard decision and he accepted within seconds."