Aston Villa goalkeeper Brad Guzan not worried by form and defends owner Randy Lerner
Brad Guzan has told Aston Villa's fans there is no reason to panic and jumped to the defence of owner Randy Lerner.
Last Updated: 24/04/14 10:58am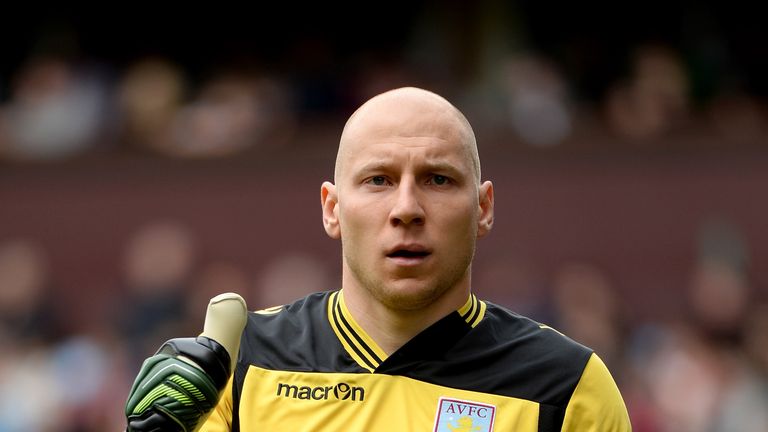 Villa have not won since beating Chelsea nearly six weeks ago, and have only claimed one point in their last five matches.
But Guzan has insisted that his team are doing all they can to escape from the mire as they look to earn five points to ensure they have another season in the Premier League.
"It's not about panic," the American told The Birmingham Mail. "It's about getting over this little bump in the road.
''These games are difficult and it's a matter of fine lines separating three points from zero or one.
"We have to keep going or fighting and we will.
"It's all in our hands so if we do what we're capable of doing we'll get the results we need to continue to push us up the table.
Villa travel to Swansea on Saturday in search of their first away win since beating Sunderland 1-0 on New Year's Day, but Guzan says that they are only looking to the future.
"It's never easy," the 29-year-old continued. "You play to win so for us and myself it's an opportunity to end this and get a positive result.
"We're going to do everything we can. It's not easy but you can't dwell on it too much.
"You can't change results, you can't change the past, we have to put it behind us.
"We're just as desperate as the supporters are to turn this around. It's not easy as players or supporters."
Villa owner Lerner, valued at over £1billion, recently hinted he may sell the club after eight years at the helm.
However, Guzan has insisted that Lerner, who also owned the Cleveland Browns in the NFL for ten years, does not deserve criticism and has moved the club in the right direction.
"Randy has been a really good owner," the 29-year-old said in The Sun.
"Despite where we are in the league, the club is in a better place than before he arrived.
"He understands the history and the passion of Aston Villa.
"You don't always see that, with Americans especially.
"He's built a beautiful training ground, improved the stadium and cleared the club's debts.
"To criticise him after spending upwards of £250million of his own money - that is extremely harsh."