Premier League: Aston Villa's Brad Guzan gives backing to Paul Lambert
Aston Villa goalkeeper Brad Guzan does not believe criticism of manager Paul Lambert is fair.
Last Updated: 26/04/14 2:17pm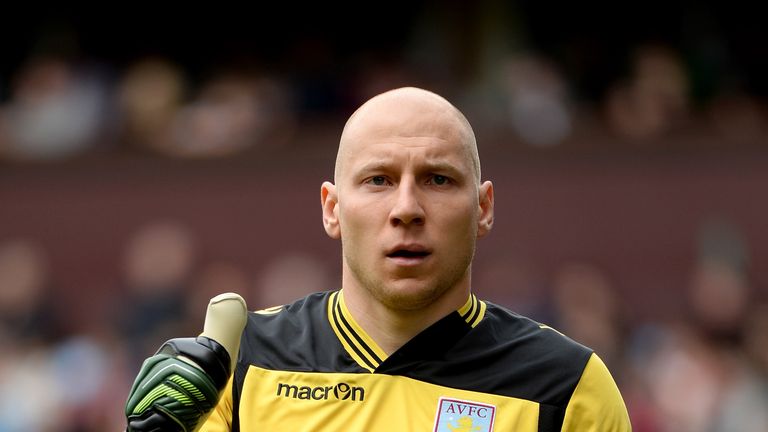 Lambert has come under pressure following a difficult season, with Villa just five points clear of the relegation zone ahead of Saturday's clash with Swansea City.
However, American goalkeeper Guzan insists the players are still fully behind Lambert and has praised the manager for his hard work in difficult circumstances.
"I've seen how hard the manager works to keep it together - on the training ground and in the dressing room," Guzan told The Sun.
"He is doing all that can be done to get the best out of the limited resources he's had this season.
"It's a testament to his desire to see us do well but no one really realises what he has to contend with.
"As a manager he can only work within the parameters of what's available to him and who he can select.
"But he always sets us up to succeed and we don't like letting him down because we know it's difficult enough in the Premier League, especially when you don't have the same resources as other clubs."
While Villa have had a disappointing season, there have been times when they have produced exceptional performances against some of the Premier League's top teams.
And Guzan admits the inconsistency has been frustrating, adding: "We really felt this was going to be a year we come into our own. At times we've had good results and shown our potential. We've beaten Chelsea and Manchester City at Villa Park and drawn with Liverpool at Anfield.
"But then we'd pick up another injury. Statistics show only Arsenal have had more injuries than us this season.
"Every time we felt we were going to really crack on, a key player would be ruled out. OK, it's football and clubs have to find solutions, so maybe we just have fewer options than others.
"It's been another season of frustration."
Nobody has been more frustrated than Lambert, who has been forced to make changes in a bid to get Villa back on track.
Guzan explained: "I've seen the manager criticised for playing so many different formations but he is doing everything in his power to help us.
"He could just throw us into a 4-4-2 every week and hope for the best.
"Instead he tries to get all of his best players playing and changes the system to suit us but it can't be easy.
"I see him trying to wring every last ounce out of what he has to work with."