Premier League: Hull and Aston Villa safe from drop after Norwich fail to beat Chelsea
Hull and Aston Villa are assured of a place in the Premier League next season as a result of Norwich's draw at Chelsea.
Last Updated: 04/05/14 7:50pm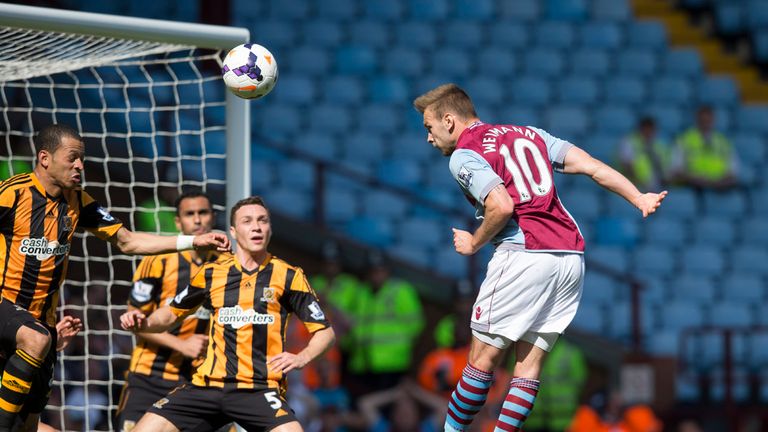 The Canaries drew 0-0 at Stamford Bridge on Sunday to leave themselves 18th in the table with 33 points from 37 games.
With the Norfolk team having only one more game to play they now cannot catch either Villa or Hull, who have 38 and 37 points respectively and two games each left to play.
Coincidentally, Villa and Hull faced each other at Villa Park this weekend with the former winning 3-1 to end a run of six games without a victory.
Hull have now not won in three, but can at least put any relegation concerns behind them as they prepare to face Arsenal in the FA Cup final on 17 May.
The Tigers are also guaranteed a place in the Europa League next season after Arsenal sealed a place in the Champions League for 2014/15.
City manager Steve Bruce suggested after Saturday's game that some of his players had become distracted by thoughts of the cup final.
Goalkeeper Steve Harper believes the experienced players at Hull must help the squad refocus for their league run-in, which sees them travel to Manchester United before hosting Everton.
"We haven't got the experience of going there as a club," Harper told Tigers Player. "There's a few players in our squad of vast experience and if one or two are looking that way it's our responsibility to remind them.
"We've got a very tough game on Tuesday and a very tough one next Sunday."
With Villa and Hull out of the relegation battle and Fulham and Cardiff already down, the focus now switches to Sunderland and West Brom.
The Black Cats have a two-point cushion over Norwich and a game in hand, while West Brom also have an extra game on the Canaries and are three points better off.
The two face each other on Wednesday and a winner would be mathematically safe from relegation.
However, if Sunderland win, Norwich would be all but relegated as West Brom's goal difference is 19 better than the Canaries, meaning a draw should also be good enough to keep both sides up.
Norwich host Arsenal on the final day while Sunderland are at home against Swansea and West Brom face Stoke at The Hawthorns.