Premier League: Christian Benteke targets early return from injury
Christian Benteke is convinced that he will overcome an Achilles injury and return to action ahead of schedule.
Last Updated: 14/05/14 12:25pm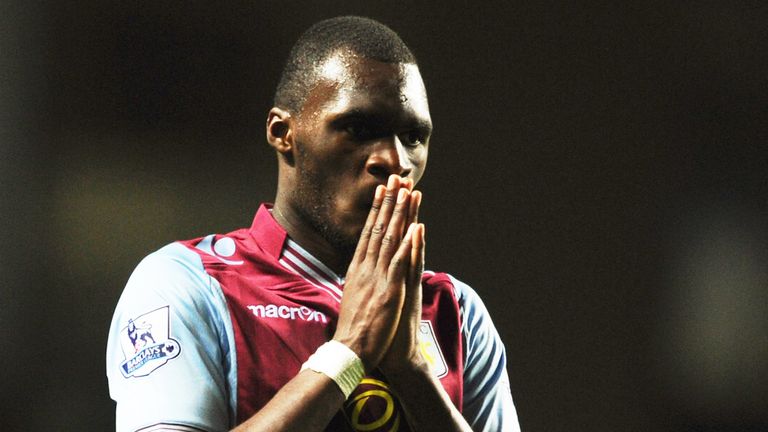 The Belgian striker suffered a ruptured tendon in training at the start of April and was initially expected to be sidelined for up to six months.
It was feared that he could miss as much as half of the 2014/15 campaign, with it likely to take until the New Year before he was back at peak fitness.
Benteke is, however, looking to hand Villa boss Paul Lambert a timely boost by returning well before that point.
He is resigned to the fact that he will miss the start of the new season but, having watched Villa limp over the line in their bid to secure Premier League safety, the 22-year-old is determined to be back and firing before too long.
"I'm convinced I will be back faster than expected," Benteke said in the Birmingham Mail.
"After my injury I thought about Villa. At that point we weren't even sure we would stay in the Premier League.
"But I'm relieved the boys avoided the drop.
"There are many people who said it will take me six months to get back, but I am sure I will be back faster."
While he is chasing down a domestic target, Benteke has had to come to terms with the fact that an unfortunate injury has dashed his dreams of gracing the 2014 World Cup.
He added on that setback: "When the diagnosis was confirmed, I didn't feel sad, I felt frustrated.
"I was thinking about all the sacrifices I'd made and that I'd deserved to be at the World Cup. That's what I mean with frustration.
"People have said lots of positive things to me. To be honest, I didn't expect that.
"When Belgium play their first game against Algeria, on June 17th, there will be a little frustration but I think I can easily watch."