Newcastle's Isaac Hayden on why foodbank visit was an 'eye-opener'
Last Updated: 15/09/17 7:43pm
Newcastle's Isaac Hayden tells Sky Sports' Johnny Phillips about his "eye-opening" visit to a foodbank and how it helps keep him humble...
It was the most starkly upsetting scene in I Daniel Blake, the film that won the Palme d'Or at the Cannes Film Festival last year. Penniless single mother Katie is so overcome with hunger at a visit to a foodbank in Newcastle that she frantically grabs a tin of beans from a shelf, rips open the lid and scoops the cold contents into her mouth, before breaking down in tears. Comforted by the staff, she is eventually given some food parcels to take home to help feed her two children.
The scene in Ken Loach's film was shot at Newcastle's West End foodbank at the Church of the Venerable Bede in Benwell. Some of the extras in that scene work here every day. In the five years it has been open more and more people have needed to use it in the face of cuts to the welfare state and increased benefits sanctions, all in the name of austerity. Between 800 and 1,000 people are fed by this foodbank each week. Over half of them are children.
"We peak at Christmas time when we feed around 1500. We peak again during school holidays when there's more children to feed because there are no school dinners," says project manager Michael Nixon.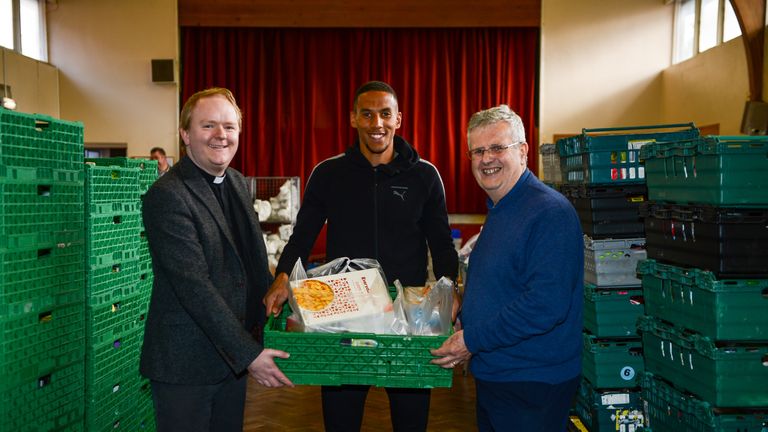 Back in March this year, Newcastle United midfielder Isaac Hayden paid his first visit to a foodbank. "I was injured at the time and I went down to get an insight into what was going on and just have a look around really," he recalls. "That first impression lasted a long time. It's a completely different environment to anything I'm used to. We are in 2017 and it's a really difficult time for the people who are coming in here. It has been an eye opener and keeps you humble."
The modest church hall that houses the foodbank has been converted ahead of the expected visitors for the afternoon opening hours. Rows of tinned food, cereal packets and basic supplies have been laid out in shopping bags across a long table stretching the length of the hall. There is a small section of fresh fruit and vegetables in a corner but one of the workers, who had a walk-on part in Loach's film, explains that these quickly go.
Behind the main hall there is another room that has been converted into a makeshift cafe. The early arrivals are being offered cups of tea and pastries donated by a nearby supermarket. It is at the same time a bleak yet heart-warming scene.
During that first visit Hayden chatted to a Syrian refugee who had little more than the clothes on his back. The player vowed to return and help out on another community visit when he could. In between ferrying crates of food between rooms and dividing up the food supplies he explains how important it is to talk to the steady stream of people coming through the church entrance in search of food.
He said: "It's just general chit-chat, they're asking about football and just want to talk about anything really. Just for them to get attention and be able to talk to somebody makes a difference. The club has done a lot of community work and the food collections on Saturday games has raised a lot of money for places like this."
"We also collect at every home match during the football season," Nixon adds. "We average around a ton of food donations at the food banks at the ground every game. And we collect around eight or nine hundred pounds in the buckets. It's a growing relationship with the football club, developing day by day. They've been fantastically supportive. It began with the supporters who got together and said they wanted to do something and continued from there."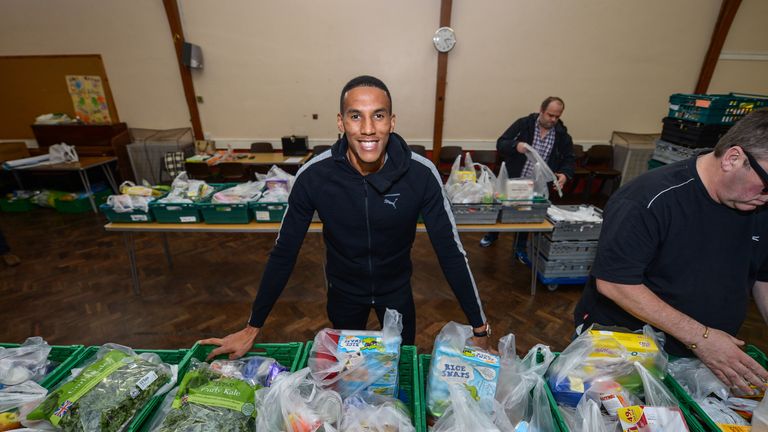 I Daniel Blake portrayed the hardships that ordinary people go through when they fall victim to benefits sanctions. At no time during the afternoon did the queue of people ever disappear. Gradually the stocks became more and more depleted.
"The film was spot on, in fact we see more extreme cases than anything in I Daniel Blake every day of the week here," Nixon continues. "What Ken did was take a very real view of the people coming here, he didn't exaggerate anything at all. It was the church that helped found the welfare state and then the government took it on.
"During the 1950s and 60s it was built up but since then it has been systematically dismantled. So that safety net everyone thinks is there is full of holes and we are there to pick up the poor people who fall through the holes. It needs fixing, we are not party political, we don't care who comes in and fixes it."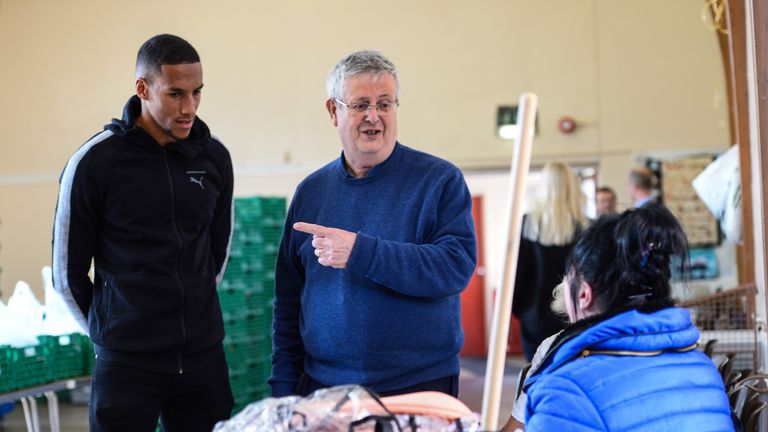 The football club is an integral element of the fabric of this city and a community tie-in like this is hugely important. In Rafa Benitez the Magpies have a manager who recognises his responsibilities too, and the bond has been strengthened during his tenure. Hayden is a modest individual who has that lovely knack of being able to engage with everyone he comes across, but he is also aware of just how fortunate he is.
"It's the reality of life at the minute, there's so many spectrums and lots of levels and it's unfortunate that we are seeing this at one of the lowest levels. But the people coming here are still in high spirits and coming in with a smile on their faces," he adds.
"It's amazing to see the positivity of some people coming in here even though they are in this situation. In the football industry you are down after losing a match or something like that and the reality is it's nothing compared to what these people are going through every day."
You can see more of the interview with Isaac Hayden on Soccer Saturday from midday on Sky Sports News.