Worthington's Ferguson frustration
Northern Ireland boss Nigel Worthington has revealed he has been unable to call-up Newcastle United's Shane Ferguson.
Last Updated: 06/10/11 4:32pm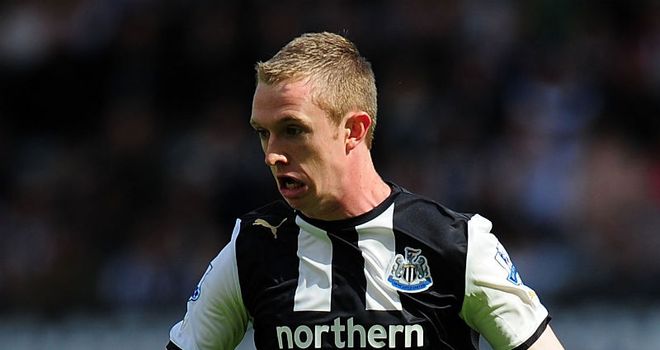 Northern Ireland boss Nigel Worthington has revealed he has been unable to call-up Newcastle United's Shane Ferguson.
Worthington wanted to add Ferguson to his squad for their games with Estonia on Friday and Italy next week.
But after making contact with Newcastle, he has been unable to take the matter further after failing to speak with the player himself.
The issue is complicated somewhat by suggestions earlier this year that Ferguson was considering switching his allegiance to the Republic of Ireland, but he returned to play for the Northern Ireland Under 21s last month, seemingly putting any question marks over his allegiance to bed.
Worthington said: "I've been trying for the last 36-48 hours to get in contact with the boy to let him know I'd like to draft him into the squad.
"The club has been notified and we've had the medical records sent back to us, as we always do with players to see if there are any problems, but we've had no contact."
Ferguson has a senior cap to his name already after playing against Tuesday night's opponents Italy in a friendly two years ago.
As that was not a competitive fixture he is not yet tied to Northern Ireland, but would be if he played any part in the Group C double-header over the next few days.
Suggestions that a personality clash with Worthington, rather than a possible switch to the Republic, are behind Ferguson's elusiveness have also been aired.
The manager, though, believes everything possible has been done and sounded frustrated when pressed about the issue.
"It beggars belief when you read in the press that people want to represent their country and when you give them the opportunity to do so there's no willingness, or manners, to say 'no, I don't want to be involved', or 'yes, I'm coming'," he said.
"I can only do what I've done. People at the Irish Football Association have done what they do and we can't do any more.
"We can't put hands on and literally drag people in.
"I think it's a great honour to represent your country, but I can't do any more."
Issues
Worthington has had problems making contact with Ferguson in the past and, responding to the suggestions of personal animosity between player and manager, he appeared to confirm a less-than-harmonious relationship.
"The only time I've seen Shane is at Milk Cups. Sometimes you make young people aware of things that would make them a better player, whether that's upset him in some way or another I don't know," said Worthington.
"If he wants to be involved, great. If he wants to go somewhere else, that's his decision. If I'm not here (at the end of the current Euro 2012 qualifying campaign) and he wants to come in after that, that's up to him.
"Certainly, when I was a young man, if you were selected for your country you
were on the first plane over."