Vuckic eager to stay Blue
Newcastle midfielder Haris Vuckic has expressed his desire to extend his loan deal with Cardiff.
Last Updated: 17/02/12 2:07pm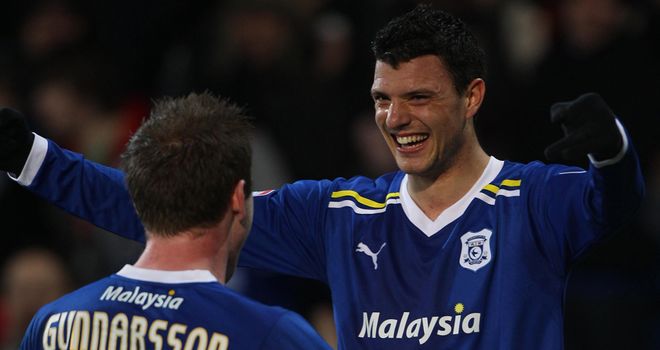 Newcastle United midfielder Haris Vuckic has expressed his desire to extend his loan deal with Cardiff City after a successful month.
The 19-year-old received his first Slovenia squad call-up on Thursday and is eager to stay with the Championship side, with Magpies boss Alan Pardew adamant it could be mutually beneficial for player and club.
With Cheick Tiote, Yohan Cabaye and Danny Guthrie all consolidating their position in the Newcastle midfielder, there has been little opportunity for Vuckic to experience first-team football.
However, having spent a month on loan with Cardiff, Vuckic has relished the chance to play in the Championship and, with a goal on home debut on Tuesday against Peterborough, the Slovenian is keen to extend his stay at the Cardiff City Stadium.
Mentality
"I really want to play," he told the Evening Chronicle. "I know Newcastle is my first team, but if I get a chance to play for Cardiff on loan until the end of the season, that would be great.
"I've found it a little bit harder than the Premier League. In the Premier League, I had more time. Here, they tackle you straight away.
"You have to switch on and the mentality is totally different. Everybody works hard. It's harder, but I'll get used to it."
Pardew has been in contact with Cardiff boss Malky MacKay, with both happy with Vuckic's improvement and of the belief it could benefit all three parties.
Talent
"I spoke to Malky on Wednesday morning, and he's very happy with Haris," said Pardew. "He had a start last weekend against Leicester City, and came off at half-time. I think the pace of the division caught him out a bit.
"He was a lot better against Peterborough. He scored a good goal, and is up and running there now. I'm sure he'll do very well for Cardiff. He'll benefit from the loan."
Meanwhile, MacKay has hailed Vuckic and believes the midfielder has plenty to give at Championship level whilst learning from his Cardiff team-mates.
"Vuckic is a footballer who has talent, can see a pass, and gets into great areas," he said. "He's calm under pressure, and I was delighted that he scored.
"The factors that will bring him on again are game awareness and adapting to the frenetic nature of Championship football. He'll learn from matches, and by playing with players like Peter Whittingham."