Ameobi dreaming of Euro return
Shola Ameobi admits he is surprised at how quickly Newcastle have re-established themselves as top-six contenders.
Last Updated: 11/03/12 5:38pm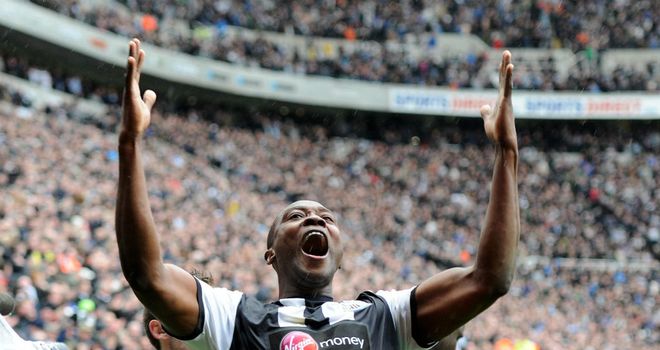 Shola Ameobi admits he could not have imagined Newcastle competing for European qualification so soon after their return to the Premier League.
The Magpies visit Arsenal on Monday sitting in sixth place in the table and knowing they could secure a place in next season's Europa League if they manage to finish there at the end of the campaign.
Ameobi, who broke into the first-team squad as a teenager under Sir Bobby Robson, has played in the UEFA Champions League for the club and was also part of the club's run to the semi-final of the UEFA Cup in 2003/04.
The 30-year-old thought those days could remain a distant memory when the club dropped out of the top flight in 2009, but Ameobi is proud to be within touching distance of the big time once again.
"Two or three years ago, we were in the league below and if you had told people we would be fighting for a European spot this year, I don't think many people would have believed you," he said.
"It's been a great journey. When I first came into the team, I thought we would be in Europe every season because that's what I was used to, playing in the Champions League and the UEFA Cup at the time.
"But things never last. For me, the fact that I started on such a high and then obviously hit rock-bottom when we were relegated three or four years ago, to see the turn-around so quickly has been a marvellous thing.
"I wanted to help the club when we went down to get back to where we were eight or 10 years ago, and I have always had faith that this club would come back, so it would be great to see it come so quickly.
Long-term plan
"We know we have got a long way to go - it's not just a quick fix, it's a long-term plan that they have here at this club.
"But it would be a great step in the right direction if we did finish in Europe this year."
Newcastle have 11 games in which to secure a place in Europe, but even if they miss out, their second campaign back in the big time will have been largely successful both on and off the pitch.
They arrive at the Emirates Stadium knowing they will have their work cut out to add to their points tally, and certainly to repeat last season's 1-0 win there.
The Gunners have won their last three games - against Tottenham, Liverpool and AC Milan - in thrilling style with striker Robin van Persie having scored four times in the process to take his tally for the campaign to 32.
Not surprisingly, Ameobi has highlighted the Dutchman as Arsenal's dangerman.
"He is the best striker, the best number nine - I say number nine, but he is playing as a number nine this season - there is at the moment," he said of van Persie.
"He is technically brilliant, a top, top-class player and he is banging in the goals.
"He is a real threat every time he is on the pitch, and it will be a pleasure to try to stop him on Monday night."