Dyer backs Graham to come good
Swansea winger Nathan Dyer has no doubt Danny Graham can rediscover his goalscoring touch - starting against Newcastle on Friday.
Last Updated: 05/04/12 4:22pm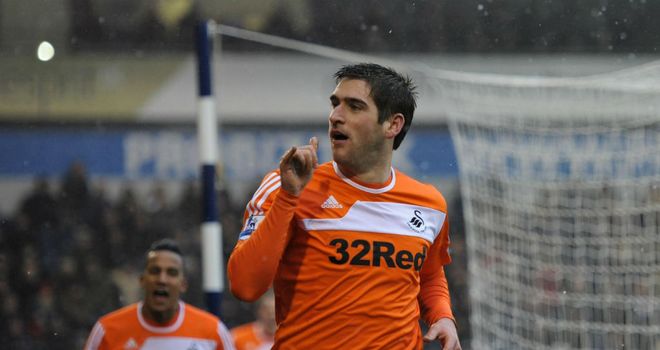 Swansea winger Nathan Dyer has no doubt Danny Graham can rediscover his goalscoring touch - starting against Newcastle on Friday.
Graham joined Swansea in the summer as a club-record £3.5million signing from Watford, and after a slow start has gone on to hit 12 goals this season.
The hard-running 26-year-old has been a pivotal figure for Brendan Rodgers in a campaign that has exceeded all expectations.
But after bagging a brace in the 3-2 home defeat to Norwich in mid-February, Graham has now gone six games without a goal.
But Dyer, 24, who is set to return to the starting line-up against the Magpies after coming back from suspension as a substitute at Tottenham last weekend, is convinced Graham will soon be back on the goal trail.
He said: "Strikers go through these patches where you don't score for a few games. Everyone doubted him at the start of the season but if you had watched him in training you would have had no doubt.
"If he gets the chance he will put it away, as he has done before. All strikers go through it, he is working hard and his finishing is on the highest level.
"He is from Newcastle so he is going to want to try and do his best and get on the scoresheet."
Dyer also believes there is far more to Graham's role in the side than mere goals.
"Sometimes in certain games where it's not going for us he does a lot of running and doesn't get the ball as much, but he starts things off for us, he defends from the front and that's how we get the ball back quickly," he said.
"He does a lot of hard work for us and sometimes he doesn't get the chances, which can be frustrating, but he is great, he works hard and is happy to do it for the team.
"It's up to us to give him the chances. It can be hard to hit one striker, so we get a lot of midfielders coming though, but we want him to score as many as possible as he is our centre forward."
Working hard
Dyer is desperate to be back in the Swansea starting XI himself after serving a three-match ban for the red card he received in the victory at Wigan.
And the former Southampton man admits it has been difficult to sit on the sidelines as Swansea picked up wins over Manchester City and Fulham, before losing to Everton.
He added: "I have to work as hard as I can to try and get back in the team and hopefully I have done enough.
"It has been tough watching the games and not being involved but we have been doing well. We had two wins out of those three games and I have been proud of the boys and how they've been playing and it has been really good.
"Newcastle are challenging for Europe so it is a tough game, but we are set and ready to go. We are disappointed after the defeat to Spurs the other day but we are looking forward to it and hopefully we can get the three points back."