Pardew hails Rodgers impact
Newcastle manager Alan Pardew has praised the work Brendan Rodgers has done at Swansea and has called for more homegrown bosses.
Last Updated: 05/04/12 8:56pm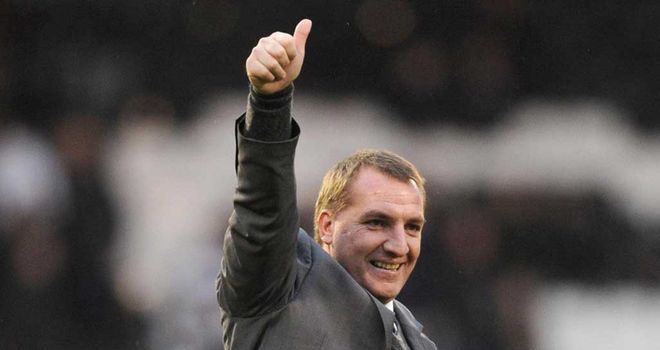 Newcastle manager Alan Pardew has praised the work Swansea counterpart Brendan Rodgers has done in South Wales and has called for more homegrown bosses in the Premier League.
Pardew worked alongside the Swans boss during his time in charge at Reading, where Rodgers was youth team coach.
In their first ever season in the top flight, Swansea have impressed with their attacking style of play, claiming wins over Manchester City and Arsenal and holding Chelsea to a draw at the Liberty Stadium.
The Welsh side have secured 39 points with seven games remaining and are currently 11th place in the table, well above the relegation battle.
Pardew praised the attacking flair shown by Swansea during their first season in the Premier League and heaped praise on the 39-year-old Rodgers.
"Brendan was my youth team coach at Reading and I know him very, very well," he said.
"He's always had a very clear vision of how the game should be played and he's stuck to his principles and I admire him very much for that.
Homegrown
"Young coaches should be promoted, but in this country it goes the other way.
"If you've got an accent then suddenly bring in a different system on the pitch, you're applauded and given a top job in the Premier League, so it's nice to see an Englishman get a shout for once.
"Well, actually he's Irish so I beg your pardon Brendan."
He added: "You have to say that Swansea have attacked the game and tried to play and been encouraged to play and taken chances when perhaps they shouldn't take chances, and done it admirably.
"They've got themselves security I think for next year already so they can plan for next year and bring one or two players on top of the players they've got.
"Some of those players deserve a lot more praise than they've been getting - Leon Britton, Scott Sinclair, Ashley Williams, they've been absolutely outstanding."