Magic Magpies
Newcastle are 6/4 (from 10/3) with Sky Bet to finish in the top four this season.
Last Updated: 21/04/12 9:55pm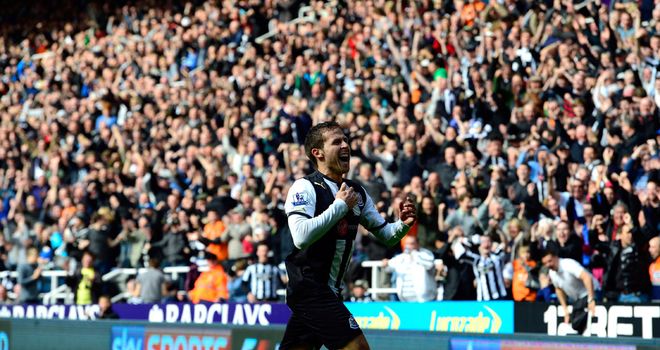 Newcastle are 6/4 (from 10/3) with Sky Bet to finish in the top four this season after a comfortable 3-0 win against Stoke moved them up to fourth in the Premier League.
The Magpies are now just three points behind third place Arsenal - 1/12 to secure a top four position - with a game in hand and three clear of Tottenham (11/10), who suffered a 1-0 defeat at QPR.
The Hoops' win has lifted them out of the relegation zone and Mark Hughes' side are out to 6/4 for the drop following favourable results elsewhere.
Blackburn are 2/7 favourites to go down after the online betting company suspended betting on seemingly doomed Wolves, who will be relegated on Sunday unless they defeat title-chasing Manchester City.
Rovers gave their fans hope of survival with a 2-0 win over Norwich to move above Bolton (8/15 for the drop), who could only manage a 1-1 draw with Swansea.
Wigan's recent run came to an end as they went down 2-1 to Fulham, with Roberto Martinez's men three points above the drop zone and 7/2 to go down.
Sky Bet's Live Football manager Joe Petyt said: "Newcastle are the form team in the battle for the top four and looked very impressive against Stoke.
"If the Magpies win their game in hand they could be dangerous, but tricky games against Manchester City and Everton could really test them."
He added: "At the bottom, Rovers gave themselves hope, but QPR look like they have finally got their act together and could survive."