Ben Arfa happy with Magpies
Hatem Ben Arfa has insisted he feels settled at Newcastle and will not consider leaving unless there is an exciting offer from a big club.
By Patrick Haond
Last Updated: 08/06/12 11:49am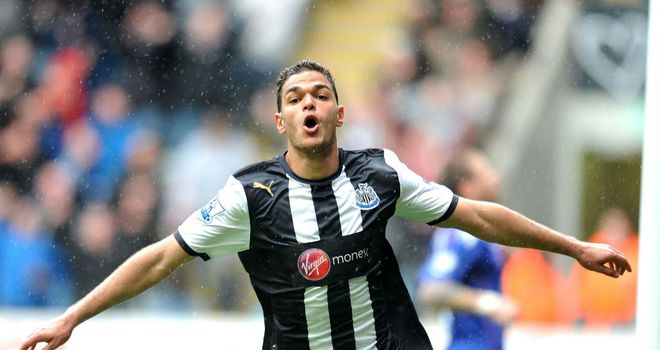 Hatem Ben Arfa has insisted he feels more settled at Newcastle than he ever has done at another club, and will not consider leaving unless there is an exciting offer from a big club.
The French playmaker, currently preparing to face England at Euro 2012 on Monday, joined the Magpies from Marseile on a permanent basis last year after an initial spell on loan at St James' Park that was curtailed when he suffered a broken leg.
He remains under contract with Newcastle until the summer of 2015 and insists that he has no plans to move on, having helped Alan Pardew's men finish fifth in the Premier League.
However, he has reportedly attracted some interest after a series of eye-catching displays and refused to rule anything out when questioned on his future in L'Equipe.
"If I don't have a really very, very serious proposition, I will stay," he said.
"If a big club comes but doesn't propose me something very exciting, which means the coach really wants me, I will stay.
"If I don't feel trust from the coach at 100 per cent, I will not leave. I have three years remaining on my contract. But I know it can go quickly."
Wonderful
Ben Arfa says he remains grateful to Newcastle for finalising his permanent transfer at a time when he was seriously injured, and wants to repay the faith shown in him.
He explained: "Newcastle are a very big club, even if there are bigger ones.
"I have settled in that team, I have trust from the coach, chairman and all the fans. I have never been settled like that.
"I feel important. That is just wonderful. I don't forget when the chairman signed me, while I was just loaned from l'OM and I was injured."
Reflecting on how far he has come since his sickening injury, when he was regarded as a temperamental character and was a long way from the France team, Ben Arfa admitted it had been a very satisfying season.
"There are no more bad waves around me. I am much calmer. I have sorted out problems in my mind," he said.
"It is not England that changes a player, it is being a foreigner in England that changes your life. An average match doesn't become a drama any more.
"My broken leg? I experienced very difficult moments. When your thigh looks like a calf and you have no more strength, I thought I was very far from the French team.
"I worked so hard to be back and, when I remember all that, today I am happy."