Jonas voices captaincy pride
Jonas Gutierrez was proud to captain Newcastle to a dramatic comeback at Everton but wants to see the armband restored to Fabricio Coloccini.
Last Updated: 18/09/12 2:13pm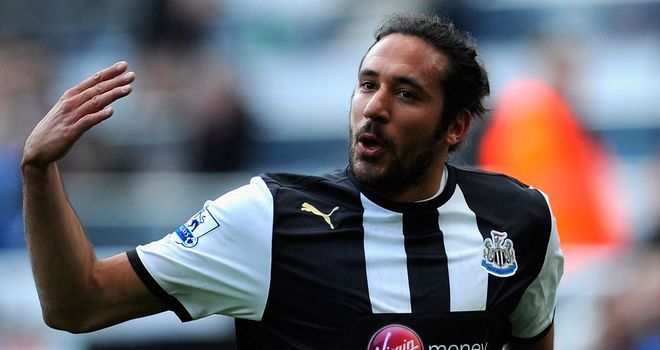 Jonas Gutierrez was proud to captain Newcastle to a dramatic comeback against Everton but is keen to see the armband restored to injured team-mate Fabricio Coloccini.
The winger deputised as skipper for his fellow Argentinian, who is recovering from a hamstring problem, during the 2-2 Premier League draw at Goodison Park on Monday night.
Demba Ba scored two second-half goals to earn the Magpies a share of the spoils, while controversy raged as the Toffees saw two 'goals' disallowed.
Gutierrez enjoyed captaining Newcastle to a spirited revival but admits he is keen to see influential centre-back Coloccini back in action.
Proud
"I'm proud to captain Newcastle and these players - I really enjoy being captain," Gutierrez told the Shields Gazette.
"They want to work hard and to play.
"But now we want the captain - Colo (Coloccini) - to come back. He's a big player for us. We have to be together.
"We know it's a hard season. We have injured players, and you saw the players run and work hard, and trying to do their best for the team.
"That's what we want - to be together and to work hard. We wanted to take a good result home."
Newcastle boss Alan Pardew moved Gutierrez to the right of midfield at half-time to deal with the threat of the lively Leighton Baines, who had scored Everton's opener.
Gutierrez feels the manager's change of tactics after the break was key to his side pulling off a comeback after the Toffees dominated the first half.
Good point
"It was a really good point," he said. "We had opportunities in the second half to win the game.
"In the first half they were better, but in the second half I think we did better than them.
"This is football. This was a just result for this game - a half went each way.
"We changed a few positions. The manager told us to change. In the first half, we had a tactic, and we changed it."