Newcastle boss Alan Pardew calls for derby calm ahead of Sunderland showdown
Alan Pardew is determined to keep a cool head in the "venomous" atmosphere of Sunday's north east derby.
Last Updated: 21/10/12 12:47pm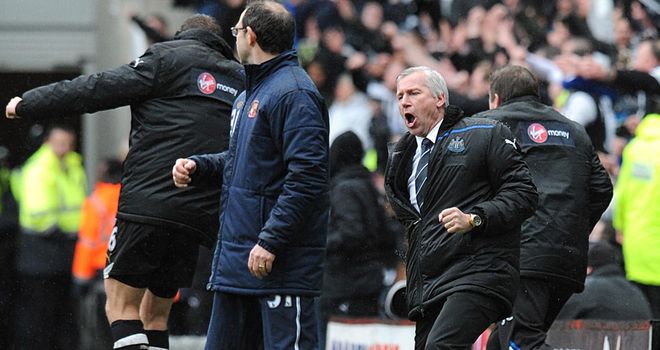 The Newcastle manager takes his side to Sunderland less than eight months on from his touchline row with opposite number Martin O'Neill at St James' Park.
Pardew reacted wildly to a last-minute Shola Ameobi equaliser and knows his behaviour failed to set a good example.
He said: "There is a little bit of passion flying about and it needs to be conducted in the right manner by players and staff alike.
"But emotions sometimes get the better of you, like it did with me at the end of last season's game when we scored in the last minute. It's an emotive game, we want to win.
"You have got to control your emotions because, at some point, there will be a flashpoint in the game. There will be a tackle that's mistimed and probably looks worse than it is, and it will be how you behave when that incident occurs.
"It's one of the great derbies of the world. I have been to many, many games, including the Glasgow derby, and this game is as venomous as that. It makes it electric.
"You don't want to lose that passion, but hopefully at the end of the game, everybody shakes hands, the better team has won and we all go home safely. That's important."
Pardew is yet to suffer a derby defeat as Newcastle boss, but he expects a stiffest challenge yet from opponents who have lost just once this season.
He said: "I have to say, it is the strongest Sunderland side I have faced since I have been manager.
"They certainly have a few players who could get in our team, outstanding individuals, Steven Fletcher probably being the pick of them at the minute.
"He seems to be gold-dust whatever he hits, so we must be very aware of him and an outstanding team unit that they have forged.
"Make no mistake, it's a difficult game for us and one we won't be taking lightly by any stretch of the imagination."