Cheick Tiote's red card cost Newcastle win at Sunderland, says Niall Quinn
Niall Quinn says Cheick Tiote's "lunacy" cost Newcastle the derby spoils against Sunderland.
Last Updated: 21/10/12 4:18pm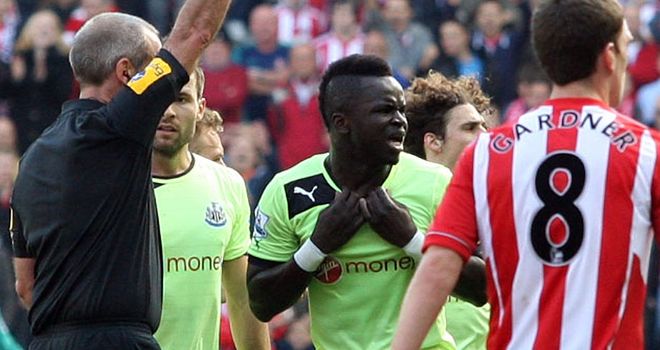 Alan Pardew's side were forced to play for more than an hour with 10 men after Ivorian midfielder Tiote was dismissed for an ugly high tackle on Steven Fletcher, even though he'd won a free-kick for his team following a foul by Jack Colback.
Newcastle were winning 1-0 at the time and clung on until the 86th minute when Demba Ba inadvertedly deflected a John O'Shea header past Tim Krul to ensure the game ended all square.
But Sky Sports pundit Quinn reckons the outcome would have been very different were it not for Tiote's antics.
"It changed the game and his manager will be furious with him," Quinn said.
"He got the free-kick. The referee blew and then straight away he put his foot over the top. It's the challenge all footballers hate seeing. He pleaded his innocence, but there's no innocence there for me.
"He took one little look at the player on his way to doing that and he had one thing on his mind after that. He was two or three feet off the ground with his studs and it was an awful challenge that changed the game.
"All footballers hate that tackle because that's the tackle that can cause damage if Fletcher's leg was planted down.
"He's heard the whistle and he's got a free-kick, so should he even be tackling? His manager will say to him he had the free-kick so what was he doing?
"He caused Newcastle a big problem because they were in complete control of the game, they were dictating the pace and Sunderland were finding it really difficult.
"That guy went and gave Sunderland a huge break. In play itself it would be a bad thing, but when the whistle has gone it's lunacy."
Afford
Sunderland, who have now not beaten Newcastle in their last six attempts, had just two shots on target, despite playing with an extra man for 65 minutes.
And Quinn says Martin O'Neill will be much happier with the result than his opposite number after benefitting from a couple of moments of fortune.
"It was a game they couldn't afford to lose," he added.
"Having said that, they got a couple of lucky breaks today and came away with a point. I think they should be grateful.
"Tiote handed the initiative to Sunderland with his actions, that was a big point, and obviously they got a deflection on their goal when it looked as if they'd knocked so many times and couldn't find a way through.
"They got themselves a point and I think Sunderland will feel better. When you're so close to winning, like Newcastle were, they'll be the ones that think things went against them."