Shola Ameobi backing younger brother Sammy to better his Newcastle record
Shola Ameobi is backing his younger brother Sammy to surpass all that he has achieved during his time at Newcastle.
Last Updated: 25/10/12 7:02pm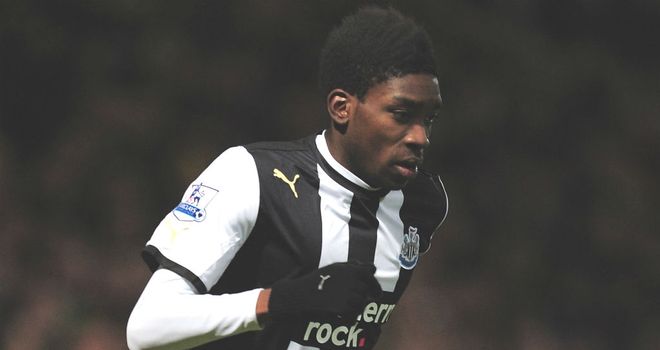 Ameobi, who is now 31 years of age, has spent his entire career on the books at St James' Park, making close to 350 appearances and scoring over 70 goals.
He is hoping the Ameobi name will continue to shine on Tyneside for many years to come, with 20-year-old Sammy having graduated out of Newcastle's academy system and into the first-team fold.
Shola believes his younger sibling is destined for a bright future at the highest level and is confident he will eclipse his record for the Magpies.
Ahead of a UEFA Europa League date with Club Brugge tonight, in which both brothers could start, Ameobi said: "There's nearly 11 years between us, so when we were growing up, I think he was maybe a little bit intimidated by me, which is normal.
"He's trying to go through what I've been through. But we have got a great relationship now.
"I feel that as a big brother, I have to make sure he's on the right track all the time. I know my parents expect that of me, and it's something I'm conscious about doing.
"I'm sure he's well aware of how hard it's going to be and what he has to put in to make it to the very top.
"But I want to see him surpass anything I've ever done in this game and I know he has the ability to do that. He can do that, without a shadow of a doubt."
Youngsters
Newcastle boss Alan Pardew has confirmed that Sammy Ameobi will make his starting XI, along with Northern Ireland international Shane Ferguson - another youngster looking to make a positive impression in the senior side.
Pardew said: "They are two players, I think, who can affect the first-team at this football club and take us forward as a club.
"It is a big game for them and they are training very, very well. We hope to see some fine performances from those two in particular tomorrow."