West Ham's Kevin Nolan has thanked Newcastle's fans for their support
Kevin Nolan has thanked Newcastle's fans for the reception he received when he returned to his old club with West Ham.
Last Updated: 12/11/12 3:42pm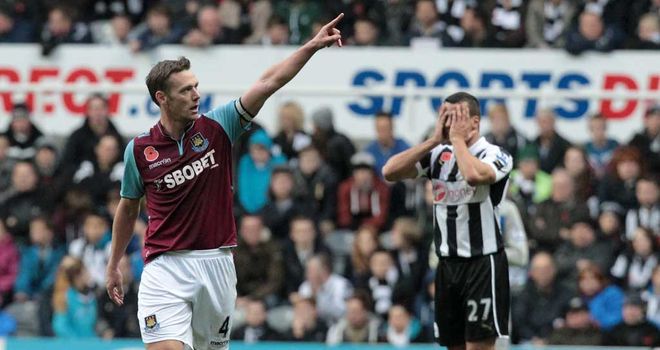 Nolan struck six minutes before half-time in front of the Gallowgate End, where he was once adored by the locals, to seal the Hammers' 1-0 victory at St James' Park.
As a mark of respect, he shelved his customary 'chicken dance' celebration, but there was no hiding his delight.
The 30-year-old, of course, might still have been a Newcastle player had owner Mike Ashley sanctioned the long-term contract for which he was looking during the summer of last year, but he will continue to look back fondly on his time on Tyneside.
He said: "I loved everything about this club when I was here, and I still do.
"I have fond memories and many friends and my family enjoyed it up here. My little boy is a Geordie.
"I thought it was a fantastic performance from us. I was delighted to get the goal and just delighted with how the day went.
"I would like to thank the Newcastle fans for the fantastic support they gave me while I was here, and for the reception they gave me on Sunday."
Commitment
Nolan added: "Obviously I could not have asked to have gone to a better club than West Ham for the following we have got and the commitment they have shown, so I'm delighted to be at another wonderful club.
"Hopefully I can do as well for them as I did up here."
The visitors had to weather a sustained assault in the second half as Newcastle, who had started poorly, attempted to fight their way back into the game.
However, manager Sam Allardyce's traditional organisation and a commendable resilience saw them through.
Nolan said: "You have got to expect that because they are a team with fantastic players. They had some fantastic players out [suspended] and we knew we had to capitalise on that, and I think we did.
"We hung on and credit to the lads because we have got a lot of grit and determination. I'm delighted to lead them every week."