Alan Pardew hopes Newcastle can qualify for a second straight European campaign
Alan Pardew is hoping Newcastle can qualify for next season's UEFA Europa League despite their current slump.
Last Updated: 22/11/12 9:17am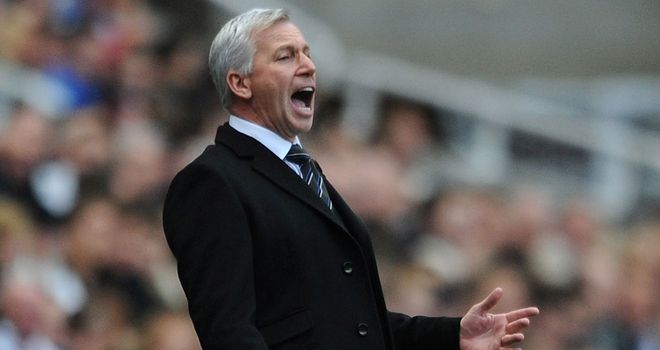 The Toon have slipped into the bottom half of the Premier League table after a disappointing run of results to cast doubt over their chances of repeating last season's fifth-placed finish.
Pardew's men are top of Europa League Group D ahead of their visit of Maritimo on Thursday night but the boss knows the pressure is on to turn things around if they want to qualify for Europe next year.
He said: "You want to back it up with another. And that is something we are in danger of not being able to do if we do not actually win the competition. That is the pressure it puts on you.
"I obviously want to win on Thursday and I want to win again on Sunday (against Southampton). And I have got to come up with some sort of magical plan which makes me do that.
"But we have got enough quality in the squad to carry the two games and I hope we can."
Tougher
Pardew claims European football can be tougher for England's Europa League contenders than it is for their UEFA Champions League counterparts.
The Magpies face Maritimo at St James' Park knowing victory would ensure their progression from Group D.
However, a gruelling schedule - Thursday's game will be their 20th of the season - has taken its toll and with compatriots Tottenham and Liverpool having also experienced difficulties, Pardew believes they are having it tougher than Champions League quartet Manchester United, Manchester City, Chelsea and Arsenal.
He said: "I think it's harder for us, I genuinely do.
"The four Champions League teams have the finance to attack that with two squads, really, whereas we are attacking a competition that has many more games, a heavier schedule and a more difficult night, Thursday night, with a much-reduced squad, so of course it's much more difficult for us.
"You have only got to look at the other two clubs in the competition and we are all having very similar seasons at the moment - and they are stronger clubs than us, financially.
"It just goes to show you that it does make a big impact on your Premier League situation.
"But you want to be in a competition that gives you some fighting chance in your own league, and this is very difficult, and we all know that as Premier League managers.
"It's whispered about. 'Blimey, that's going to be tough for you next year' - that's all we heard during the summer - and it has been."