Shola Ameobi's match-winning goal gives Alan Pardew a nudge ahead of the transfer market opening
Shola Ameobi's late goal provided Alan Pardew with a timely nudge as he braced himself for a battle to keep Demba Ba
Last Updated: 23/12/12 7:34pm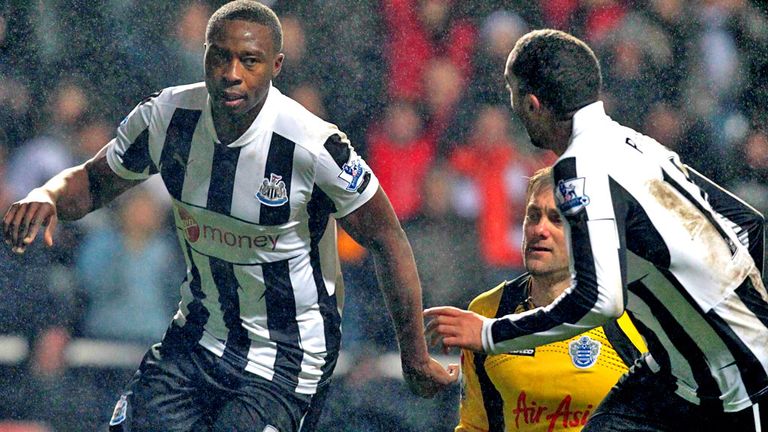 The Senegal striker's future is once again the subject of speculation with a series of clubs reportedly ready to activate the release clause in his contract when the transfer window opens in January.
Pardew is in the process of identifying potential targets of his own in several positions, and has confirmed that Marseille frontman Loic Remy is among them.
Whether or not a striker will remain a priority should Ba stay remains to be seen, but Ameobi's match-winning intervention against QPR on Saturday couldn't have come at a more opportune moment.
Ameobi said: "It's been frustrating, sitting on the bench every week and watching the lads out there doing their best to try to win.
"As a player, you want to be involved and help in any way you can. At the moment, that's me coming off the bench and I just have to do what I can.
"Hopefully, I can make an impact like I did on Saturday. I'm just really delighted that we sent everyone home happy for Christmas.
"Sylvain, who has got great vision, spotted me and I managed to cut in and hit the side-netting, so it was nice.
"I haven't scored too many goals this year so far, so it's great to get on the score sheet and because it was so valuable, it obviously means so much more. I'm really delighted with the finish.
"Obviously, we have been through quite a period of not winning many games, so this game was massive.
"With the two sides being so close together at the bottom of the table, it was a must-win game.
"There was a huge sigh of relief and we are delighted that we could get all three points."
Ameobi's contribution was the only goal in a contest the Magpies dominated, and a rare clean sheet provided the basis for a narrow, but precious win.
He said: "Something we felt as a side has been very frustrating is the fact that we haven't really looked like keeping clean sheets, we haven't looked solid, and that was the basis of our success last season.
"But you can't underestimate how much a win does for confidence in this game, and that's hopefully going to give us a lot of confidence going into the Christmas games."
The Magpies head to leaders Manchester United on Boxing Day having not won a league game at Old Trafford since 1972.
Ameobi added: "Hopefully they will eat a lot more than we do and we can nick a result down there."