Alan Pardew heads to Old Trafford unhappy despite win over QPR on Saturday
Alan Pardew has warned Alex Ferguson there will be two angry managers in the dug-outs when his side head to Old Trafford
Last Updated: 26/12/12 1:07pm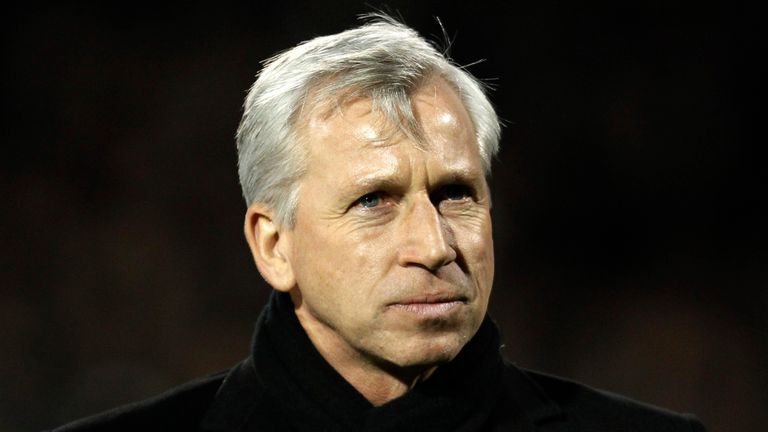 With Ferguson left seething after a draw with Swansea on Sunday, as well as a controversial ball strike to Robin van Persie's head, Pardew admits he too is unhappy despite ending a run of three league defeats on Saturday.
He said: "I'm not happy either. Although we have won, the away form hasn't been great, so there will be two teams with a little bit to prove, two managers smarting a little bit with their teams.
"It will make for a really professional game. Sometimes on Boxing Day, you can get a loose game - I don't think this will be."
The Van Persie incident understandably made headlines, although Pardew believes Ferguson's outspoken comments were made in the heat of the moment.
He added: "Retrospective action is important because as we saw with [Everton's Marouane] Fellaini the other day at Stoke, children shouldn't be seeing incidents like that on TV.
"I think the one with Van Persie was perhaps not as bad as Alex had first imagined. Sometimes from the sideline, it looks a lot worse at the time.
"I'm not sure whether there will be action taken for that, but certainly elbows and off-the-ball incidents, that's a good feature that the FA have brought in."
A draw for United saw rivals Manchester City close the gap to four points on the league leaders with Ferguson's men far from being at their best at the Liberty Stadium, and Pardew is wary of the potential response.
Pardew said: "It happens. You want to roll into teams when they have off-days, that does help.
"Swansea, I think, did that, Manchester United did have an off-day and fortunately for them, they got a point out of it.
"What we have got to do is try to make it another off-day by making it equally difficult for them to play."
Newcastle's 1-0 win over QPR on Saturday marked the end to a run of league defeats, but with a trip to Arsenal following their Old Trafford visit, they know they will have to be closer to their best to build on a valuable three points.
Pardew said: "When you looked at the programme at the start, you could see that this was a tough run for us, and it's even tougher now with the results we have had and the injuries we have sustained.
"But I am actually going into it more buoyed than I have been at probably any other period of the season.
"We have definitely picked up, we look a little bit more resilient. We got a very important clean sheet on Saturday and I think we will be in good heart for what is one of the toughest games of the programme, Manchester United away."