Newcastle need change of luck says Jonas Gutierrez
Newcastle United ace Jonas Gutierrez says luck has deserted them this season.
Last Updated: 26/12/12 2:30pm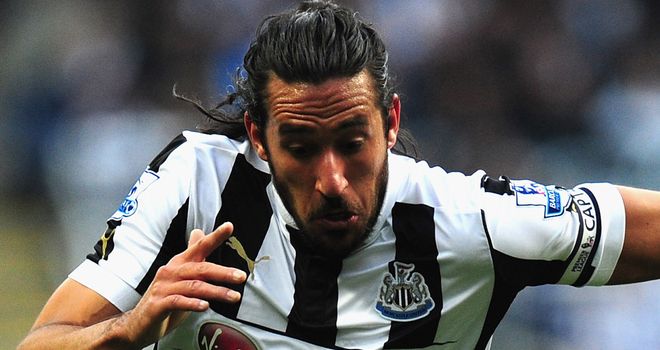 The Magpies finished fifth last season, but this term has been spent in the lower half of the table just above the relegation zone.
Argentina midfielder Gutierrez is confident though that they will pull away from trouble once they get their full squad on the pitch.
"It's a difficult season, we're conceding goals we kept out last year, but we're all still working very hard," he told the Guardian.
"Last season we were lucky with injuries and suspensions. This year we've been unlucky and we now know it is the hardest thing to play well in the Europa League and the Premier League. But we have to start winning.
"Otherwise there's going to be too much pressure; we have to start climbing the table and then we can still finish quite high in the spring.
"Last year we found a really good type of football but now we are not finding the same.
"The injuries to people like Yohan Cabaye and Hatem Ben Arfa make it hard; when the team keeps changing it's difficult to keep standards high. We want to play on the floor, to pass and move, pass and move. I want our fans to say, 'Oh that's really good'."
Gutierrez admits he has himself lacked some form this term, but he puts that down to playing in a number of different positions.
"I play most of my best games on the left wing but because of the injuries we've had this season I've had to be more in the middle of midfield and it's been harder," he said.
"But in some ways Alan Pardew is a bit like Diego Maradona. They are different people but they are both passionate for football. They have a real thing for it; they think about it in the same way."