Pardew 'enjoying' Toon pressure
Newcastle boss Alan Pardew has admitted his job "would kill him if he did not enjoy it so much" and feels "every day is a learning experience".
Last Updated: 29/01/13 9:41am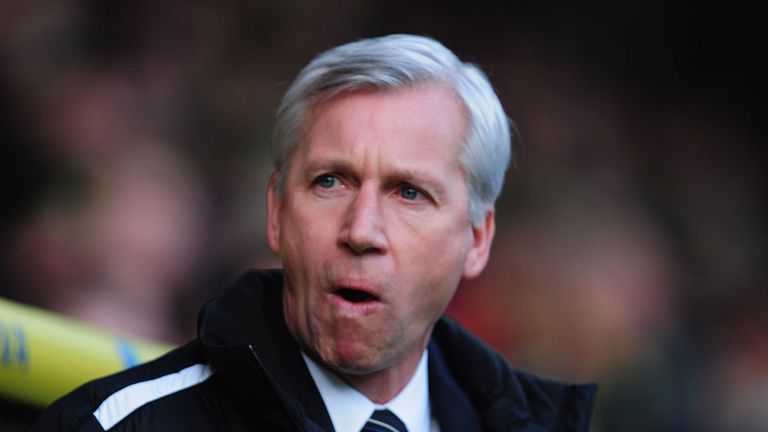 Newcastle boss Alan Pardew has admitted his job "would kill him if he did not enjoy it so much" and feels "every day is a learning experience".
The 51-year-old has faced an intensely difficult few months on Tyneside, with his team slipping into the battle for Premier League survival after a desperate run of results and he has more recently had to deal with Demba Ba's defection to Chelsea, skipper Fabricio Coloccini's request to leave and a January recruitment drive.
However, the last week has brought significant progress on the transfer front and Pardew was able to announce yesterday that the club had managed to persuade Coloccini to stay until at least the end of the current campaign.
Asked how difficult a time he had endured, he replied with a smile: "Every day is a learning experience for me at this football club.
"You have to grow and enjoy it, otherwise it would kill you, so that's what I do, I grow with it and enjoy it.
"I know the feeling around is very much about results more than anything, and we need to put that right."
Newcastle will resume league action on Tuesday evening when they travel to fellow strugglers Aston Villa sitting just two points clear of the drop zone.
They will do so, however, with four new faces on board after central defender Mapou Yanga-Mbiwa, striker Yoan Gouffran, full-back Massadio Haidara and midfielder Moussa Sissoko joined fellow Frenchman Mathieu Debuchy in heading for St James' Park as transfer window signings.
Eyebrows have been raised at Newcastle's concentration on the French market - they now have 12 Frenchmen in their squad following last night's arrival of Toulouse midfielder Sissoko - with chief scout Graham Carr having established an impressive network of contacts.
Pardew said: "Graham Carr doesn't speak a word of French, so it's amazing that he has done so well there.
"We not only use Graham, but we use his team in France. We have very, very good contacts in France and I think that's probably the main reason that the transfers have come that way.
"But the most important thing is getting good players, and we think the French market is a good market."
However, all the newcomers have been told that, while they are free to speak among themselves in their native tongue, they must learn English as quickly as possible.
Pardew said: "I always make the same speech to my French players and say to them that I will speak in English and they need to learn English very, very quickly.
"We talk in English on the pitch. Amongst themselves, for sure, some French dialogue can go on. Here, they have to understand me and they have to understand English."
Haidara, 20, admits his English is not good, but he is happy to learn.
He said: "As a group, us French players have come to the same opinion when we have spoken to each other, that we need to make sure we do speak with everyone.
"We need to understand the other players. It will help us to know their game better and also to learn English much faster."