Newcastle United boss Alan Pardew says he never feared for his job at St James' Park
Newcastle United boss Alan Pardew admits he never feared for his job despite seeing the side slide down the table.
Last Updated: 08/02/13 9:13am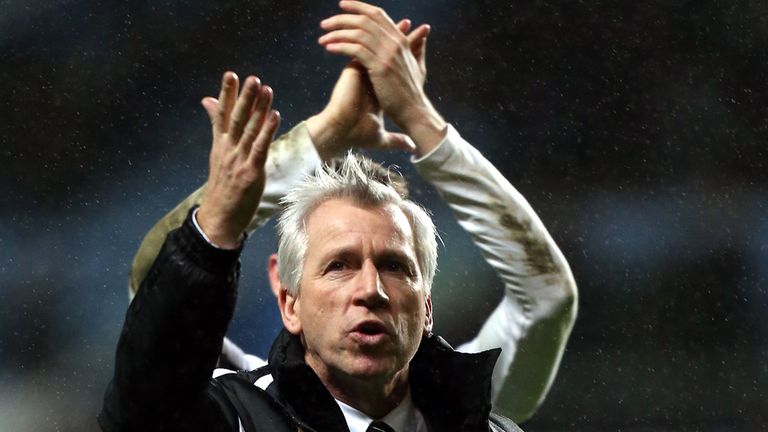 The Magpies have struggled in the bottom half of the Premier League table this season and they currently lie just six points above the relegation zone.
However, Newcastle have recorded back-to-back wins against Aston Villa and Chelsea to move clear of trouble and Pardew insists he also felt he had the backing of the club's hierarchy.
"It's rare in football to have the position that even with the results I've had, the message from upstairs was that I was going to be retained as manager," said Pardew.
"Perhaps our fans weren't quite as happy about that at the time, but I have to try and reward the club for the backing the gave me now. So far, we've got two great results and we have to build on that.
"We haven't been good enough and we've been saying that. Now we think we have got a team that's good enough and we have to back it up with results."
Meanwhile, Newcastle's managing director Derek Llambias believes stability is needed if the club are to build a platform for future success.
"The club has never had stability and it needs it," said Llambia "This is too big a club not to have stability.
"Do we want to find ourselves in a situation when we have a manager for 15 or 20 years? Absolutely. If the manager works, we work. You cannot get any better than that."
"Eventually you will bring to the club what it has been crying out for. Stability is a big thing for us."
You can only watch the best Barclays Premier League coverage here on Sky Sports. Watch Spurs v Newcastle exclusively live on Sky Sports 2HD, 3D and Sky Go from 12:00pm on Saturday 9th February. Click here for more details