Tim Krul: New signings have boosted confidence at Newcastle
Goalkeeper Tim Krul says Newcastle's new signings have given the club a much-needed confidence boost.
Last Updated: 14/02/13 9:01am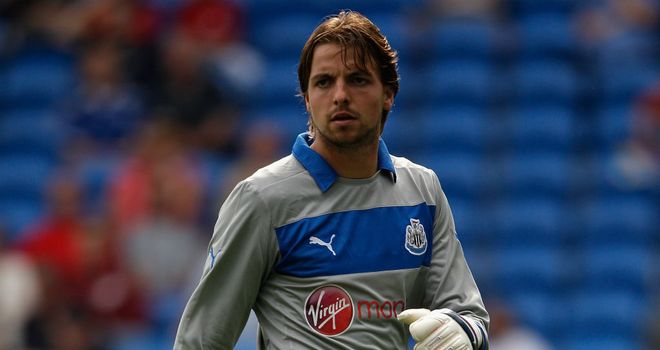 The Magpies endured a terrible first half of the season but have improved of late, winning two of their last three games, with new additions Mathieu Debuchy, Moussa Sissoko and Yoan Gouffran playing a prominent role.
The club remains just four points above the relegation zone but, with confidence high, Krul is optimistic about the future.
"We have had a really hard time during the first half of the season, but with these new faces coming in, it gives us a massive boost and a lot of confidence," said Krul.
"They have been fantastic. Normally you see with new players, they take a bit of time to settle. But these lads, from the moment they walked into the club, they have been great for us.
"We have still got a lot of hard games to play, but we can go into those games with a lot of confidence."
Debuchy and Gouffran are ineligible for Thursday's Europa League last-32 first-leg tie against Ukrainian side Metalist Kharkiv, an opponent Krul admits he knew little about until recently.
"Funnily enough, I know a lot about the stadium because we played all our three group game in the Euros there," said the Netherlands international. "We have had, of course, a team meeting and we know everything about the players now, but before, I didn't know much."
Kharkiv are currently on a mid-season break and have not played a competitive fixture since 6 December, but Newcastle boss Alan Pardew had chance to see them in a 1-1 friendly draw with Northern League side Whitley Bay on Sunday.
"It's not ideal for them, but on the other and, it can work well," said Pardew. "They will obviously be very fresh and very motivated for this game, and that can hide a number of sins.
"They have a large influx of South American players, who give the team a real characteristic of technique, and that's probably what we are going to have to come up against.
"They are very good at keeping the ball and keeping it away from us, and will probably take our tempo out of the game.
"That's their strength, and on the break, they are fast, so we need to be on our guard. As Juventus proved on Tuesday night at Celtic, you have to be very clever in how you attack."