Europa League: Newcastle midfielder Jonas Gutierrez calls for cool heads
Jonas Gutierrez has admitted that Newcastle United will have to be clever when they take on Metalist Kharkiv.
Last Updated: 21/02/13 5:12pm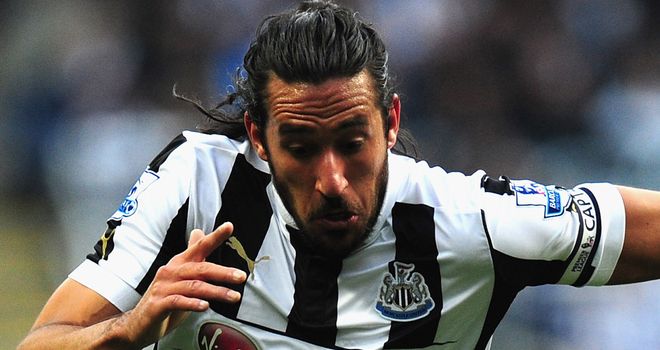 The Magpies had to settle for a goalless draw at St James' Park last week and now have a lot of work to do in Ukraine on Thursday if they are to book a place in the last 16.
Gutierrez is expecting a difficult game but is relishing the challenge of trying to find a way to knock out Metalist.
"We will have to be fairly clever with the way we approach the second leg," he told the Evening Chronicle. "All of us will have to work out the best way to get behind them so we can create the opportunities to score.
"Thursday is going to be a more difficult game than last week, but we are not afraid of the challenge.
"There is not much difference between the two sides. Metalist will attack us more in front of their own fans. But we can score over there. We will create chances.
"The most important thing is that we are clever about how we do that.
"We will attack them, but we must use our heads. Metalist showed at St James' Park that they are a team with goals in them, so we need to look after their offensive players and not allow them space at the back."
Papiss Cisse had two goals disallowed in the first leg and Gutierrez admits there is a sense among the Newcastle players that they deserve to be in front at the halfway point of the tie, but he still feels they are in a decent position after keeping a clean sheet at home.
He explained: "I think we are unlucky not be going to Ukraine with a lead. The best team last Thursday was Newcastle, I think.
"We tried to score - we did score - but it didn't happen for us. That is where the luck comes in.
"The good thing is we didn't concede. That's important in a European game. It is a very different game if we go to Ukraine having lost a goal.
"It was frustrating not to score, but 0-0 might be a good result. You never know in football.
"We were not happy, however, because we didn't win the game. We created a lot of chances and scored twice, if you like, so why can't we do that again?"