Anzhi Makhachkala boss Guus Hiddink wary of Newcastle
Anzhi Makhachkala boss Guus Hiddink says Newcastle pose a big threat to his side when they meet in the Europa League.
Last Updated: 07/03/13 4:26pm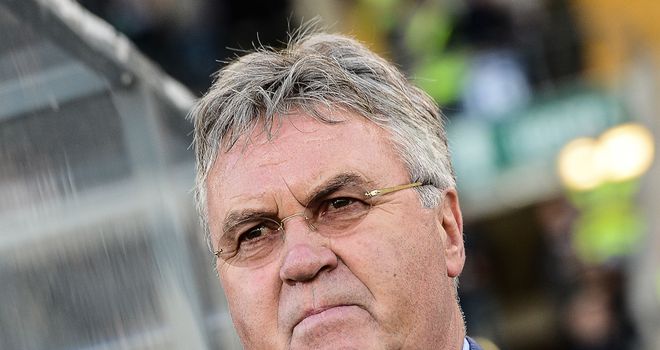 The Russians host United in Moscow's Luzhniki Stadium on Thursday night and Dutchman Hiddink has been impressed with what he has seen from Alan Pardew's side.
"We are going to have another very interesting and very tough contest against a team who reinforced themselves in the past weeks dramatically in a positive way," said the former Chelsea boss.
"It's a strong team. We have seen them in their contests in Europe, but also we have seen them in the games they have recently played in the Premier League.
"When you see the last game against Swansea, they were dominating, dominating, dominating and they got a very unlucky goal in the last part of the game against them. But you could see it's a modern team, so it's a big challenge for our players."
Anzhi saw off Hannover in the previous round, but Hiddink believes Newcastle are stronger than the German side.
"In my opinion, Newcastle are a stronger team, first of all because they play in the English Premier League, which looks to be a stronger competition than the Bundesliga," said Hiddink.
"Also, they have recently had a good improvement in their results and they have made a good upturn in the table, and also they have high-quality national team players in their line-up.
"But we will be looking to play our own game. We also have some high-quality players in our team."
Having reached his initial objective of guiding Anzhi into the last 16 of the competition, Hiddink says he is determined to extend their run further.
"Regarding ourselves, we are very happy, of course, that we have reached our aim that we set at the beginning of the season, to survive the winter-time in Europe," he added.
"Then we got a good result against Hannover in the two games and then you are in the last 16 in Europe, which is a very good success.
"But having got there, we are so eager to see what we can do to make the next step, and it's also good to see how our team is in comparison with teams who have the experience already of playing for many years in a tough league, plus sometimes Europe."