Alan Pardew praises both Newcastle and Benfica for Europa League displays
Newcastle boss Alan Pardew feels his team gave it their best shot in the 1-1 draw against Benfica at St James' Park.
Last Updated: 12/04/13 6:48am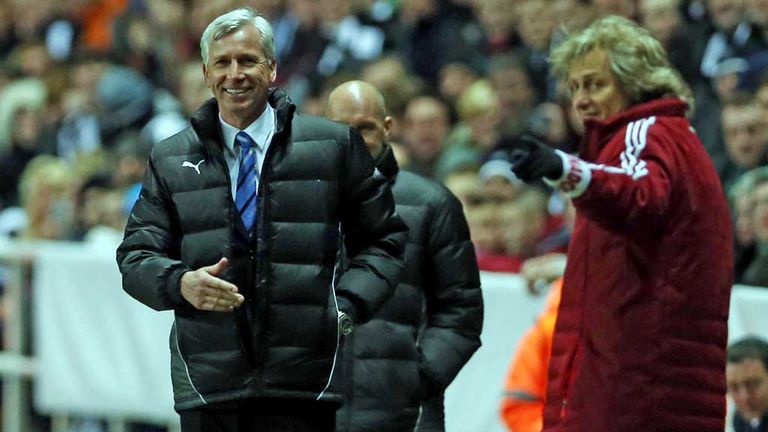 The Magpies, trailing 3-1 from the first-leg, pushed Benfica all the way before scoring thanks to a Papiss Cisse goal on 71 minutes.
But an Eduardo Salvio equaliser in injury-time put Benfica's place in the UEFA Europa League semi-finals beyond doubt, sealing a 4-2 aggregate win.
Pardew was effusive in his praise of Benfica, as well as the efforts of his own team.
"They are a good side - you can't let them get a lead against you," said Pardew. "In the first half we kept it tight and looked to nick a goal - and almost did before half-time.
"We had two or three big chances at 1-0 but you can't ask for anything more from the crowd, the players.
"You've got to respect the opposition - technically they are a superb side. I am so proud of the performance - we couldn't have done any more.
"We've got some very good players - when we get them all back we've got a very good side."
Pardew has now challenged his side to secure a top-10 finish in the Premier League.
He said: "Our next target after going out is to try to secure a top-10 finish if we can.
"With all the injuries we have had and the credible performance we have put in in Europe, I would have to take that as a real learning curve for us in terms of the injuries we have sustained.
"The next time we go into Europe, we need to be better prepared than we were at the start of this season.
"You have to put into context what we are. The financial restrictions we have are so much greater than the top clubs in this country.
"But that doesn't mean to say we can't win something and we are going to try to achieve that and over-achieve like we did last year.
"It's fair to say this year, we haven't over-achieved mainly because of the injuries we have sustained and this European programme.
"Our league form has been really affected but we have grown into it and the experience will stand us in good stead for the future."