Alan Pardew hopes Sunderland remain in the Premier League next season
Newcastle boss Alan Pardew has expressed his desire for Sunderland to remain in the Premier League next season.
Last Updated: 12/04/13 6:26pm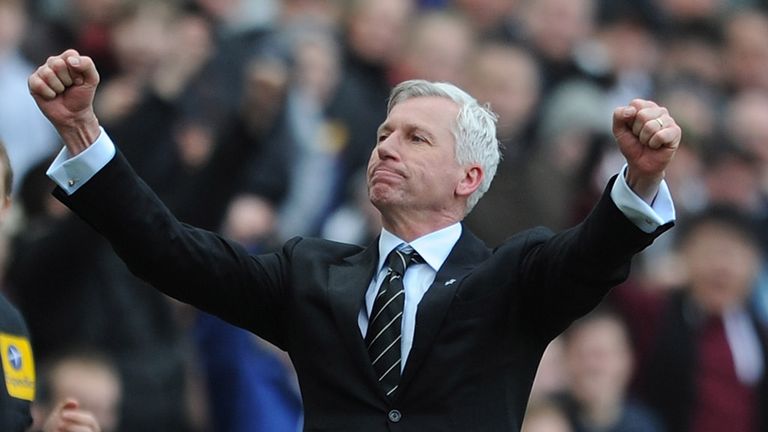 The two sides meet at St James' Park on Sunday and while victory for the Magpies would give them a boost following their Europa League exit, it would however leave the Black Cats with an uphill task with five games remaining.
And Pardew says he relishes the Tyne-Wear derby, and hopes both clubs remain in the league next season.
He said: "Sometimes, the north-east gets a little bit left to one side. The Manchester clubs get a lot of attention and London clubs do, and it's nice that we have raised the profile of north-east football.
"For me, this fixture is important because I think it's great for the Premier League to have Newcastle and Sunderland in the division - and I hope we both are for next year.
"We are both fighting for that at the moment."
At the corresponding fixture last season, Pardew and then Sunderland manager Martin O'Neill were involved in a heated exchange on the sidelines.
But the Magpies boss was the first to wish new manager Paolo Di Canio good luck.
"He's a winner and I have got no problem with anything he has done or said since he has been at Sunderland in terms of how he has conducted himself with us," Pardew said.
"He is very professional and that's how he will be on the sideline, I am sure. He knows the spotlight will be on him, as it is on me as Premier League managers, and we have to conduct ourselves in the right manner.
"I have said before that this fixture has a little bit too much of a personal level of intensity.
"Actually, it's a game of football, that's what it is, and hopefully the better team will win on Sunday.
"We are in good form. We have got some players coming back who make us a little bit stronger, and I think it's a tough game for Sunderland."