Danny Simpson: Benfica display sets us up perfectly for derby
Danny Simpson says Newcastle's stirring Europa League display against Benfica sets them up perfectly for Sunday's derby.
Last Updated: 13/04/13 2:43pm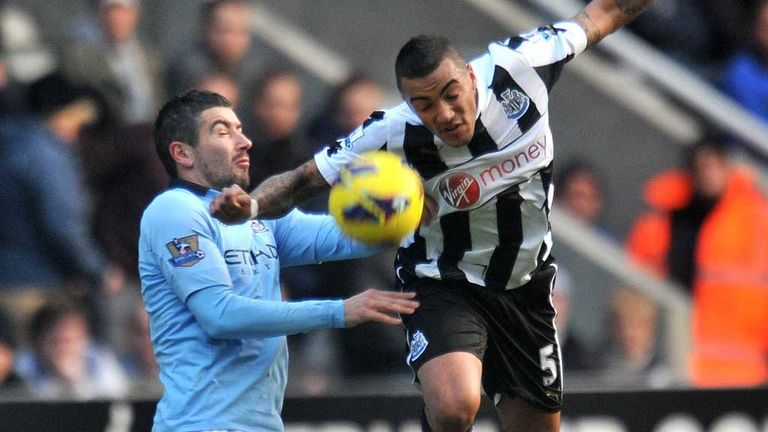 The Magpies came within two minutes of being the first team to beat Benfica since October, but they conceded a late equaliser and bowed out of the competition 4-2 on aggregate.
The threat of relegation makes Sunday's north-east derby even more important than usual and Simpson said Thursday's performance will help Newcastle go into the game with confidence.
He said: "That's just going to give us a big lift for Sunday, in all honesty. We have got a couple of days to recover now, but our performance and the fans and the energy and the effort we put in, it's just got us ready.
"We are champing at the bit for Sunday now. They are probably the best games I have been involved in. It just means so much to everyone. You can feel it.
"They are very special and I have been fortunate to have won a couple and drawn a couple.
"We have had a good week - we beat Fulham and had a good performance on Thursday night and were unfortunate not to go through.
"We have set ourselves up nicely for Sunday now to give it a right go and I am sure the fans will be up for it as well."
He was part of the Newcastle team which romped to a 5-1 victory over their local rivals at St James' in October 2010 and also figured in a 1-0 away win the following August.
Simpson said: "It just makes everyone so happy. It makes their night, it makes their week - it will make probably the rest of the year until the next derby.
"We know how much it means to everyone, so we are going to give 110 per cent and if we perform as we did on Thursday night, I am sure we will put a smile on everyone's faces."