Newcastle boss Alan Pardew feels draw has proved doubters wrong
Newcastle boss Alan Pardew felt his side's battling goalless draw at West Ham proved there is no rift in the camp.
Last Updated: 05/05/13 7:55am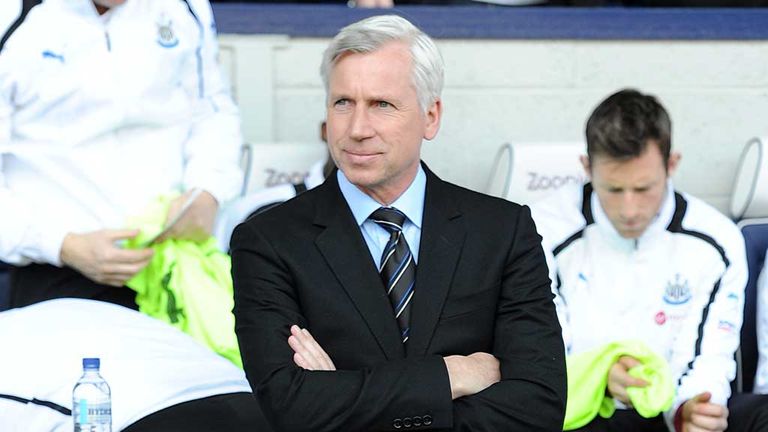 The Magpies picked up a precious point in their battle to avoid relegation as they bounced back from defeats by Sunderland and Liverpool with a draw at Upton Park.
Newcastle were forced to deny reports of a dressing room rift at the club due to their sizeable French-speaking contingent and Pardew believes the players are united after fighting to earn a point against West Ham.
"It was a very important performance because there was a lot of myths and reporting that was unfair on us and we had to show that wasn't the case and that we were a strong team and have got spirit in the group," Pardew told Sky Sports.
"We had to show that today because coming here so many balls are put in your box and you've got to show real determination and we did that all day."
Pardew added: "We said on Thursday that some of the reporting had been a disgrace and the reporters should be ashamed of themselves.
"There is no foundation to it.
"But the only way we can answer that is by our performance and that performance I think put that to bed.
"Whether we are good enough to stay up, we have to show that now in terms of our quality but lack of spirit, lack of fight, that was there in leaps and bounds today and we will take that to QPR."
Pardew felt his side should have been awarded a goal in the first half when Papiss Cisse saw his shot cleared off the line by Winston Reid with replays proving inconclusive if the ball had crossed the line before the West Ham defender's intervention.
"I thought we had a legitimate goal in the first half and two big chances in the second half to perhaps have won it," continued Pardew.
"I think in that decision I thought it was in, I saw the linesman slip over and I can't see how he could have seen it and then you are in the hands of the referee who obviously didn't think he was 100 per cent sure on it and didn't give it.
"Goal-line technology next year will make a big difference to all of us because those decisions are crucial and we need a break and we could have done with a break, but unfortunately it wasn't to be."