Newcastle United boss Alan Pardew insists Arsenal comment was a gag
Newcastle United boss Alan Pardew has reassured fans his team will not be holding back against Arsenal.
Last Updated: 14/05/13 10:06pm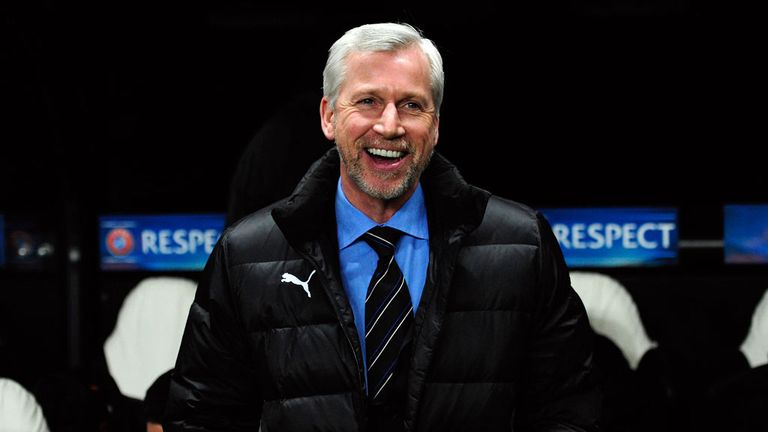 Supporters were delighted at securing their Premier League status after Sunday's 2-1 win at QPR but baffled at suggestions by the boss that the players would not be taking the season's last game too seriously.
It is a crucial match for the Gunners though as Arsene Wenger's men continue their battle for a top-four spot and Champions League qualification.
Having risen to 13th spot, Pardew is determined to end a stuttering campaign on a high and told the club's official website: "I know people will have picked up on my comments about not caring about the result against Arsenal, which were, of course, a joke.
"It is definitely not the case that I would be happy for us to lose 4-0 against Arsenal on Sunday. I simply want our players and fans to be able to enjoy the game without looking over their shoulders.
"Even though we are now safe, we will be putting in the same effort that we would for any other Premier League game. Our last two results at St James' Park - against Sunderland and Liverpool - have been nowhere near good enough, and Sunday gives us the chance to put that right.
"We want to end the season on a positive, to finish in as high a position as possible and to give the fans something to cheer about on the final day of what has been a frustrating season.
"Arsenal will be doing everything they can to try and achieve a Champions League spot and we won't make it easy for them, make no mistake about that. This is a game everyone at this football club wants to win."
It has been a frustrating few weeks for the Magpies faithful having seen their team in miserable form at home - losing 3-0 to arch-rivals Sunderland and 6-0 to Liverpool.