Newcastle striker Papiss Cisse given PFA backing over Wonga shirt decision
Papiss Cisse has been granted backing from the PFA if he refuses to wear a Newcastle shirt featuring the Wonga logo.
Last Updated: 13/06/13 1:08pm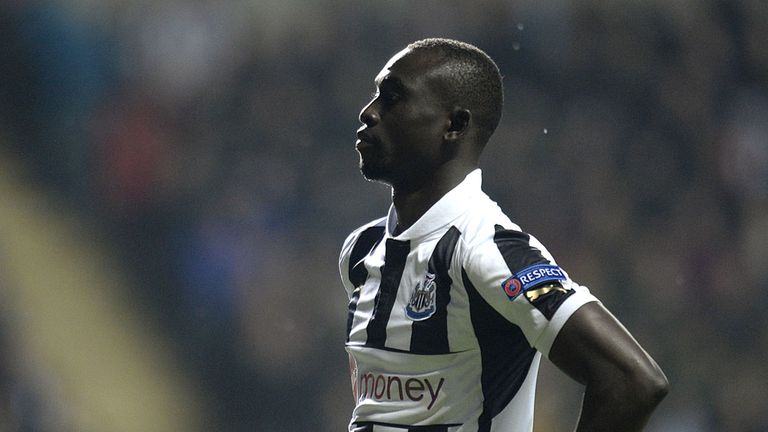 Alan Pardew's side will wear the shirts with their new sponsors on for the first time in a pre-season friendly at Motherwell on July 16.
However, Cisse is understood to be concerned that wearing the shirt could compromise his Muslim beliefs and is set to hold discussions with the club when he reports for pre-season training on July 11.
PFA deputy chief Bobby Barnes said: "We're all aware that clubs need to generate revenue and sometimes have to use a wide range of companies.
"However, if someone feels very, very strongly that it's not compatible with their beliefs, then some sort of solution should be found."
It was announced last October that the high-interest payday lenders would take over from Virgin Money as Newcastle's new shirt sponsors from the 2013/14 season, in a contract thought to be worth around £8m a year to the club.
Barnes added: "He's been fantastic player at Newcastle.
"And I'd like to think they would want to do as much as they could do for him to continue scoring the goals without compromising his beliefs."
Cisse, who is currently on international duty with Senegal for their World Cup qualifiers, joined Pardew's side in January last year and has scored 26 goals for the Magpies.
A similar issue occurred at Sevilla in 2007 when forward Frederic Kanoute covered the logo of betting company 888.com, and the ex-Tottenham striker was handed a customised individual shirt without the company's logo on it.