Joe Kinnear wants Newcastle to sign a striker to help Alan Pardew
Joe Kinnear has revealed he will target signing a new striker after his shock return to Newcastle United.
Last Updated: 18/06/13 8:47am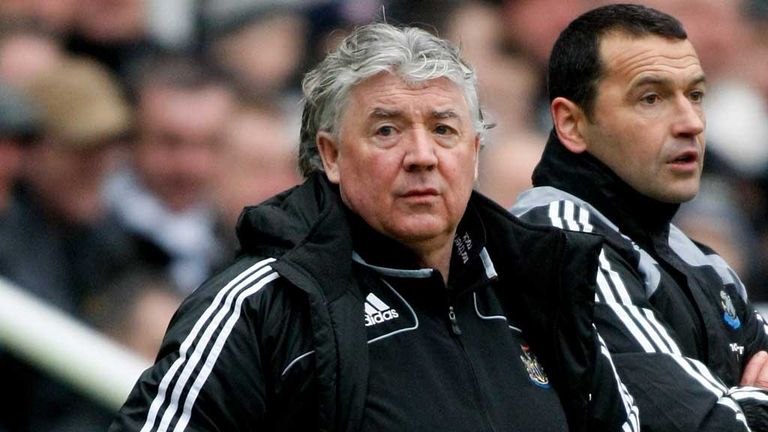 Former Newcastle boss Kinnear claims he will be taking charge of the club's transfer business after accepting a director of football role.
Newcastle were already being linked with their former striker, £35million man Carroll, who spent last season on loan at West Ham United from Liverpool and is close to a permanent move to Upton Park, and Aston Villa's out-of-favour Bent.
And Kinnear plans to discuss the situation with boss Alan Pardew, as he said in The Sun: "I think we need another striker. Papiss Cisse was top scorer with 13 goals last season, the next best was Yohan Cabaye with six.
"There weren't enough goals from other players in and around the team for whatever reason. Alan will tell me why. I don't know the reasons, I only know the facts.
"But I will suggest we find somebody with the pedigree that guarantees you 15 goals a season. I don't know where the Bent link came from, and that's why this week we will sit down together and go through everything so we can get cracking and get players in.
"I gave Andy Carroll his first home start. He's an exceptionally strong and talented player. But I don't know what the score is with the financial side of Andy. It's something I intend to investigate."
Kinnear, though, has still to find out how much money Newcastle owner Mike Ashley will make available this summer.
"I haven't been given a budget yet but I will go to owner Mike Ashley and explain to him how in need we are. I think we'll look at all the markets. I think Mike is a very generous owner," he added.
"I don't think Mike will mind when we give him our business plan. If we spell it out, that it's a serious situation where we do need a quality striker, I'm pretty sure he will pay up.
"I've got a hitlist of players I want to see. I've seen some decent Dutch players, I've seen a fantastic Norwegian goalkeeper, I've seen some pacy wingers.
"We need to see who's fit, how strong we are pre-season, and then I'll sit down with Alan and say, 'Is this squad strong enough for you to start with?'
"He may say, 'Well Joe, I think we need cover at centre-half'. It's as simple as that - I'll put questions to Alan and Alan will then tell me how he sees it."
Kinnear will also work closely with Newcastle's chief scout, Graham Carr, and has revealed he has already spent several days talking about transfer targets.
Kinnear said in the Daily Mirror: "I've been with Graham for three days. We've discussed all the French players and contacts that Graham knows, the players he's brought in and we're very happy together."