Newcastle confirm Joe Kinnear as director of football on three-year contract
Newcastle United have confirmed the arrival of former manager Joe Kinnear as director of football.
Last Updated: 18/06/13 4:48pm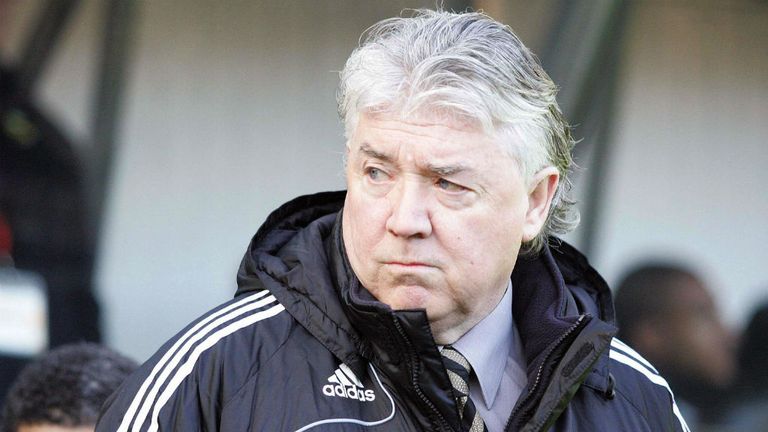 The 66-year-old lifted the lid on the appointment earlier in the week and the club have confirmed his return to St James' Park, where he will work alongside current manager Alan Pardew.
Managing director Derek Llambias told the club's website: "The board are pleased to welcome Joe back to the club.
"Joe has many years of experience working within the game, and this experience will be of great benefit to the club in achieving our objectives over the coming seasons."
Kinnear made a controversial appearance on talkSPORT on Monday night, taking part in an interview during which he hit back at sections of Newcastle fans and media who had criticised him during his previous spell with the Toon.
The former Republic of Ireland international took over as manager in September 2008 in the wake of Kevin Keegan's departure before handing over the reins to Chris Hughton the following February amid concerns over his health.
Kinnear's first time on Tyneside was overshadowed by a foul-mouthed rant at journalists, accusing them of having an agenda against him and, while he returned to his grudge against the media on Monday night, he hit out at the fans as well.
When asked by talkSPORT what he would say to unhappy fans, he said: "To all the fans who don't agree with this decision, shall I bring (Derek) Llambias (managing director) back in?. What do you want? What do they want?
"I heard a silly comment of 'what can I attract?' I can open the door to any manager in the world, anyone, that's the difference. I've spent my whole life talking to Alex Ferguson, week in, week out, what would you do?
"I can pick the phone up at any time of the day and speak to Arsene Wenger, any manager in the league. In all the divisions.
"I don't know what angle they've got, if they want to sit down and argue with me... Some are talking out of their backsides, a load of tosh. I'm not accepting it, as simple as that. I have certainly got more intelligence than them, that's for sure."
Kinnear's initial announcement in a Sky Sports News interview caused surprise in the game. While his time in the dugout was ended by a heart problem, results on the field contributed to the club's relegation from the Premier League.
United's fans have reacted accordingly but Kinnear, who struggled with some Newcastle players' names as well as Llambias on talkSPORT, added: "I'm a bit surprised.
"There's a certain section, exactly the same when I got there. I got over 10,000 letters when I had my heart attack, I felt very proud of that and thought I did an excellent job.
"A lot of Geordies are influenced by the media set, because I stood up to 100 journalists that night. It was the same night we beat Tottenham 2-1, the journalists always had it in, many of the Geordie fans were sucked in."
Kinnear's appointment has been well received by defender Steven Taylor, who is pleased to see the former manager back at the club.
"I am really happy to see Joe back at the club and I think his return can only be positive for everyone connected to the club," Taylor told Sky Sports.
"Joe was great for me when he was manager and I really enjoyed playing for him.
"We were in a great position under Joe in the league until he got ill and it was after that that things went wrong.
"Joe wears his heart on his sleeve and he tells it as it is and I think he is someone that Newcastle exactly need.
"Joe has lots of experience and he is very knowledgeable and I for one am really excited to see him back at Newcastle."