Newcastle boss Alan Pardew says club comes before Yohan Cabaye
Newcastle boss Alan Pardew says the club comes before any players as the future of Yohan Cabaye remains unresolved.
Last Updated: 27/08/13 8:50pm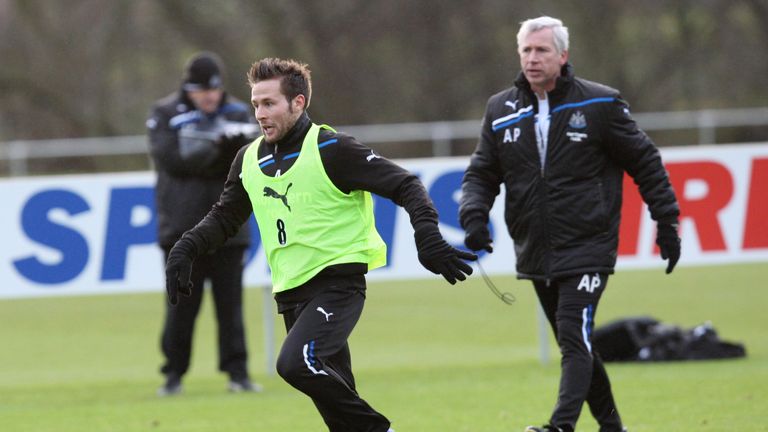 Pardew declined to confirm whether or not the France international, who was the subject of a rejected transfer bid from Arsenal, refused to play in the first two games of the season against Manchester City and West Ham.
However, he revealed that no second offer had been received, and that the midfielder would not be involved in Wednesday night's Capital One Cup second round tie at Morecambe as his future is thrashed out.
Pardew said: "The answer isn't as simple as a 'yes' or a 'no'. The answer is he is either going to be sold and we are going to have to replace him in the window that we have left, or he's going to stay.
"But I, as the manager, have to protect him and protect the football club, more importantly. The first thing on my agenda is the football club, trust me, and that will always come first while I am the manager here."
The Gunners are reported to have offered around £10million for Cabaye with Newcastle looking for double that, and Pardew is adamant Arsene Wenger will not get the former Lille man on the cheap.
He added: "The bottom line is with world-class players if they move on, it has to be world-class money."
Cabaye will be desperate to resolve his future at St James' as soon as possible considering the recent quotes by France boss Didier Deschamps.
Deschamps will name his squad on Thursday for the World Cup qualifiers against Georgia and Belarus and said: "If you do not play for three weeks, how can you be in shape to plan an international? It is impossible.
"I do not ask them anything, they are free to pursue their careers, but they know very well and it is the same for everyone, you need a minimum of playing time. You have to have minutes on the pitch, start games, to be able to hope to play for France."