Transfer news: Newcastle United boss Alan Pardew wants a key signing
Newcastle boss Alan Pardew admits he is hoping to bring one 'key' new signing in before Monday's transfer deadline.
Last Updated: 01/09/13 11:31am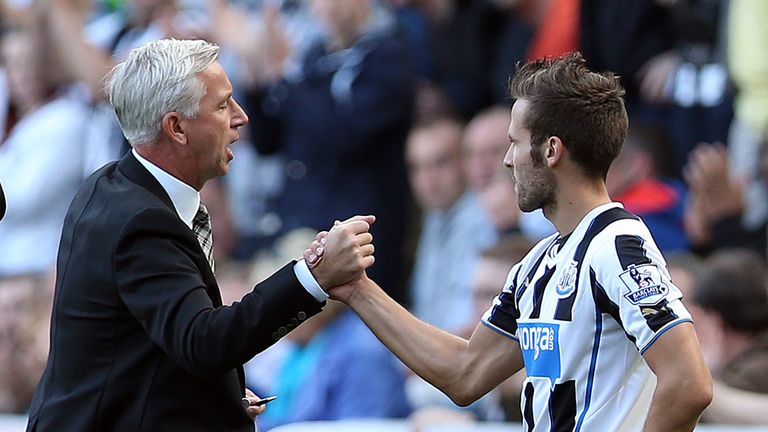 Newcastle, who are hopeful of hanging on to Yohan Cabaye - who has been the subject of interest from Arsenal, want to make some in-roads into the market.
So far this summer, Pardew's first team has only been bolstered by the loan signing of Loic Remy - but he hopes that he will have one new signing in for next week.
"We would like to bring one key player in who is going to threaten the first team and maybe we have to watch the Cabaye situation, that would be someone we have to replace for sure," Pardew told Sky Sports, adding that director of football Joe Kinnear was working hard.
"I think Joe has got the targets in front of him and it is who he gets across the line, it not easy bringing in offensive players as Arsenal and Spurs have proved, it takes a lot of money and we are in the same boat."
He admits that losing Cabaye, who made his first appearance of the season against Fulham, is still a possibility.
"It has got to be possible, I lost big Andy Carroll on the last day of the January window and that was a massive blow at the time, and we like to think we are armed this time if Yohan goes," he said.
"But you never know as it is the replacement who is difficult and it would be difficult to replace, I think he is a fantastic player and his head has been turned for sure but if he stays it wont take him long to get his head round and for him to become what he is for us and that is an important cog in our team."
Delight
Turning to the match and Pardew was delighted to have claimed their opening win of the season.
"It is important for our fans, it has been a tough week - the press have given us a hard time - but we are only three games into the season and we have had three clean sheets," he said.
"We knew we needed a goal today, and we were nervous first-half again as you could imagine but the second-half really well and we showed the power we have which we hadn't had with Yohan and Remy coming on the pitch.
"Suddenly we looked like we could get a bag of goals and their keeper was unbelievable today otherwise it would have been two or three.
"There was no problem second half, we could of had three or four, Remy came on and we suddenly looked like we doubled out threat, out of respect to our other strikers, he is a class act.
"It was a question of a little more tempo and pressure on the ball as Fulham can be clever, with Berbatov dropping into midfield so we put more pressure on the game and introduced more attacking options and that got us over the liner and I am just delighted for our fans as this is a massive club and trust me we are in good order."
Pardew was delighted with Ben Arfa, but admits he was still the main frustration for him too.
"Hatem had a day today where I said to him you are never going to send me grey as I already am but I am going bald," he said.
"Some of his play was wrong, he made wrong decisions but them he made a couple of right ones, he is such a maverick and he is difficult to manage when it comes to structure of your team and it goes to him and you're not sure what he is going to do, but one thing I do know is that he has exceptional talent and he has opened up the game a couple of times and then he has hit the winner with an absolute pearl of a hit."
Cabaye got a mixed reception when he came on and Pardew thought the fans were right.
"I thought he got an even reception and that is about right, our fans thought we are not sure what you have done but we still love you as you're a great player and I think they got that just about right, a few booing a few cheering, Yohan is a big enough character and a top player and that did not affect him one iota," he added.